Written on February 4, 2011 at 12:00 pm by Michelle
Filed under:
Featured
,
Giveaway
with tags:
Jodie
,
Kittyrobot
For those who're in the dark, Kittyrobot is a fun, quirky and delicious Etsy shop that has yummy looking polymer clay foods that are doll-friendly and resin pullrings that have sprinkles and glitter in them. Are you intrigued? I was super excited when Jodie of Kittyrobot contacted me wanting to know if I'd like to do a giveaway with her. That would be an astounding yes! She was happy to do an interview with me as well and I'm so excited to share the questions and answers we went over. Considering, to me, anyone who can incorporate sprinkles and glitter into a fun and cute pullring for Blythe has got to be the coolest person ever.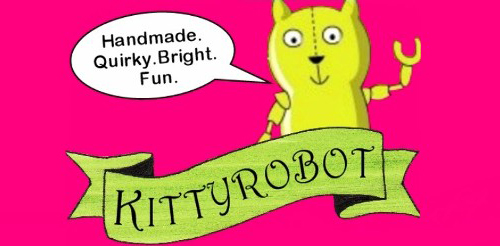 Hi Jodie! What can you tell us about yourself?
Hi, Thanks for having me! Well my name is Jodie, I am a 29 year old full time student, and part time crafter/maker/operator of Kittyrobot.
I have two fur babies, who are my whole world, my cats, Anabelle and Sui, I also have two furry little mouse friends, Scruffy and Snowy.
I live in a little beach town on the East coast of Australia, I love all things vintage, cute and kawaii, crafting, sewing, photography, travel, music, and bike rides, and have been in the Blythe hobby for just over 3 years now.
How did you discover Blythe and what drew you to her?
I was a regular Flickr visitor, and I can recall years ago seeing lots of photos of this curious looking doll, dressed in beautiful fashions and never knew what kind of doll it was.
Then one of my Flickr contacts had photos of Blythe's, finally I knew what they were! And I loved looking at her photos of them, and through her pics, it sort of inspired me to research them a little, I found myself spending more time on flickr looking up Blythe dolls, than anything else I used to enjoy looking at, and finally the bug hit, I had to have one, I thought 'yep, one will be enough for me' but of course, it wasn't, and many more followed soon after.
I was really drawn to what I thought, was a unique, quirky look of the Blythes, I loved how you could dress them up in cute clothes, customise them, and I was also interested in the idea of making cute clothes, and little miniatures for them, I guess initially I loved the idea of being able to combine my love of craft, with my new found love of dollies.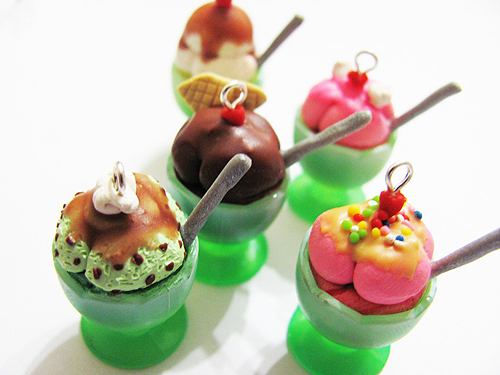 I know that you create some pretty unique things with polymer clay, what can you tell us about that?
We create most of the things in our Kittyrobot store with Sculpey Polymer clay, it is such a great material to work with, sturdy, and easily customizable in color. We stock buttons and jewellery, for both people and Blythe dolls, as well as miniature foods, and scene setters for Blythe photo shoots, and of course, we are always open to a custom order, or creative idea a customer may have.
In the past we have created quite a few fun custom clay pieces, such as pullring charms like cupcakes, macarons, and owls.
All of our polymer clay miniatures are all totally handmade, using quality Sculpey clay, we don't like to paint our pieces, as overtime I feel the paint could chip or discolor, so we make them in pure Sculpey.
It can be a little bit time consuming, and fiddly to do, we have to be sure to try and make the pieces look somewhat realistic, while also making sure we work to scale, and keep it the right size. We (myself and the other half of Kittyrobot) usually decide on a food, or scene to create, and sketch it out, we will then look up real photos of those foods, and work to try and replicate that.
Most of all we love a challenge, if somebody ever has something in mind, and comes to us to ask about it, its fun to have a play with a new idea we may not have thought of, and then creating it to suit the customer, making them feel satisfied and happy with the end result, that's the best part.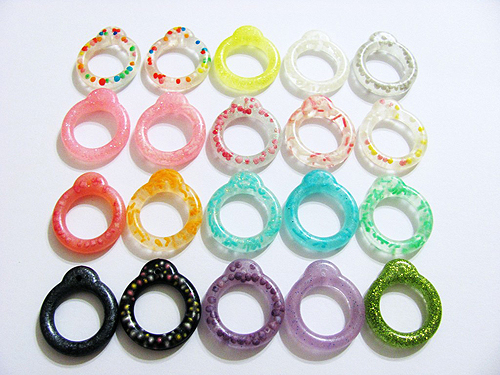 What can you tell us about resin and how you were came to start crafting with it?
Resin is one of my most favorite mediums to work with, its so versatile! You can keep it clear, or embed anything you can imagine into it, add colors, pigments, glitters, turn it into anything really! It can be time consuming, from start to finish, as it has quite a long cure time, It needs time to settle and harden up in the molds, before you can pop them out and finish them off, with fine sandpaper, and the buff them.
I first was introduced to resin about 6 years ago, I did a short art course, and one element was resin work, we created our own molds, and were taught how to mix, and make with it, I produced a bracelet consisting of 10 small bars of resin with some Japanese paper embedded, I thought it was kinda fun. It wasn't until a couple of years later, I found some resin finally at the craft store, and began making pieces for a craft market, mostly glitter/sprinkle/sticker/coffee bean necklace charms, magnets and rings, and then later we decided to start making jewelery, buttons, and pull rings, for the Kittyrobot Etsy store.
I think one of the most amazing things about what you do at Kittyrobot is that everything is handmade. How much time do you put into Kittyrobot on a daily basis?
Most days vary, but all of them begin with checking in on emails, or shop conversations we receive while sleeping, along with any updates we need to do via Twitter or the Facebook group, fix up any listings that may have sold out, or relist any new items, Being on the other side of the world to majority of our customers, can be a pain with time differences.
Then we process any sales from overnight, and start getting to work on those, or work on any of our larger consignment/wholesale orders purchased outside of the shop, twice a week we do visits to the post office to ship mail, and nights are usually spent packing orders, and getting them ready for the post. If we have any new product, we will do a mini photo shoot, ready to list items. When we don't have orders needing to be made, we brainstorm ideas, or play around with ideas we have, creating and crafting new pieces.
Basically I do majority of the online, customer service work, and making of orders during the day, in amongst my full time study from home, while the other half of Kittyrobot is at work, at her day job, and once she gets home at night we create together some more.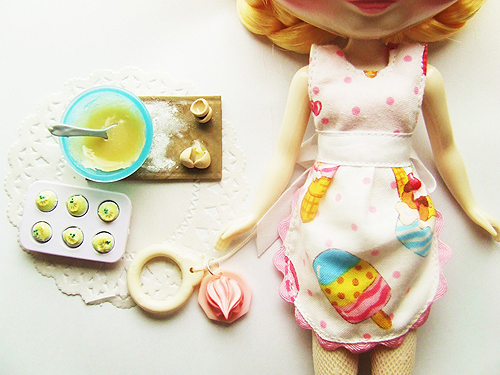 Blythe is a versatile doll, which I'm sure we're all aware of, what made you start crafting things for dolls and doll collectors?
I originally started creating, what I thought were cute items, that were both affordable, but also individual and unique at the same time.
Blythe is a very versatile doll, and also each one has her own little personality and style, so with the custom resin pullrings, and pullring charms, I thought they would be great for those who want something a little different for their unique girl, something that they can customise to suit the exact look they want for their doll, to match her overall look, or to compliment any custom work, etc.
As with the miniature foods, and scene setters, I thought of fun foods, and combos, I would love my own Blythe girls to have, and thought others might like them too, for mini photo shoots, and dollhouse set ups!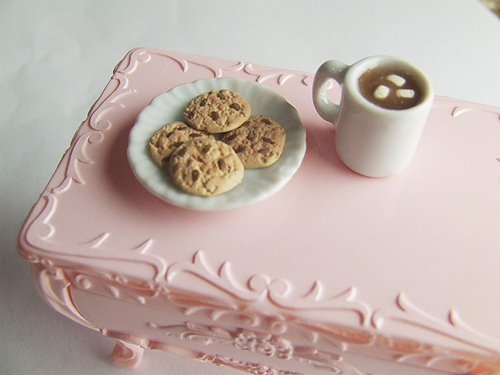 Where does your inspiration come from for all the cute things made for Kittyrobot?
All over really, from personal taste in all things cute and quirky, ideas we have, or sketch out, colors and things from magazines, books, vintage treasures, and any inspiring things we see in magazines or on the internet. Mostly, we get inspired to make super cute things, that we feel there is a need in the world for!
How does it make you feel when you see people photographing their dolls with your work?
Super excited, and it may sound funny, but a little bit giddy with excitement!! I love how each Blythe has her own personality,so when the new owner buys from us,and photographs it with their dolls, I feel the items take on a whole new look, and feel, and when they match the dolls perfectly, that's a super exciting thing! Its so awesome to see so many adorable dolls being photographed, with Kittyrobot items!!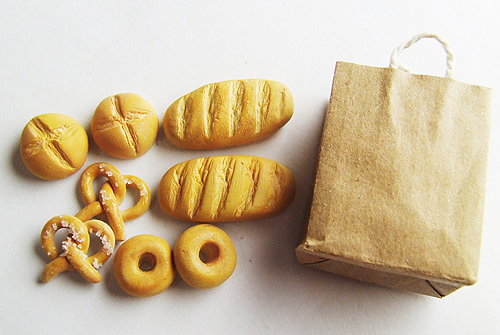 What can we expect to see from Kittyrobot in the future?
We are working on ideas for lots of new items, we are hoping to introduce more variety in the items we have now, and more wearable cuties, more one off Blythe scene setters, maybe even more miniatures, like foods and props for photo shoots, more pretties for the people, and some more sewn things!
We are also hoping to set up a website, and start selling mostly via that! It would be our ultimate goal to someday have a real Kittyrobot store, tiny little shop out in a cute town somewhere, stocking all of our handmade cute pieces, along with pieces by other artists, combined with vinyl art toys, and of course Blythe dolls!
What kind of advice do you have for someone who's new to the Blythe hobby?
I would say, join up to one of the forums, or various Flickr groups, to meet like minded Blythe fans, the wealth of knowledge from all the super nice Blythe fans, really does help, and its nice to make some friends who share your love, look around and research the different variety of dolls, to choose which one is for you,and most importantly, research the doll seller,so you do not have problems!
Overall really, I would say, have fun with it, at the end of the day its a hobby, and hobbies are supposed to be fun!! Don't feel guilty if you spend a lot on it, and don't feel like you have to hide it from anybody, if it's something you love, its something you deserve to enjoy guilt free!
Kittyrobot Custom Pullrings Giveaway!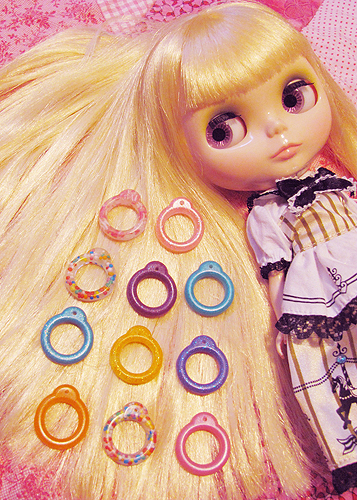 Kittyrobot is generously giving away two (2!) pairs of custom Blythe pullrings to two very lucky visitors of BlytheLife.com! That's right, each of the two winners will be receiving two custom pullrings, made to their liking, by Kittyrobot!
You can get up to fifteen entries for this giveaway draw and you can enter until Saturday February 12, 2011 at 11:59pm PST. The draw will be held on Sunday February 13, 2011 and the two winners will be announced on BlytheLife.com. Remember to use a valid email address for all comments. If you win, your email will be forwarded to Jodie to discuss what kind of pullrings you want and arrangement for shipment of the prizes.
Please only use one email address per person, those using multiple email addresses for more entries will be disqualified.
This giveaway has a little bit of an extra twist on how you can enter, so read carefully! (If this new way of doing giveaway entries proves popular, and successful, I'll be using it in future giveaways! So let me know if it's good or bad or just downright confusing!)
Mandatory Entry: Comment below about this interview, any of your favourite Kittyrobot products (be sure to check out things that they've sold!) or tell Jodie and myself what you'd like to see in the future from Kittyrobot! This is worth 1 entry into the giveaway draw.
Bonus Entry #1: Tweet about this contest! You can retweet the following up once per day for a maximum of 9 bonus entries into the giveaway draw. You must be tweeting from a public Twitter account and include your Twitter username below for your entries to count.
Delicious goodies and custom pullrings! Check out the latest @blythelifecom interview and giveaway! http://bit.ly/hTqigi
Bonus Entry #2: Blog about this contest! Be sure to include some details about the contest as well as a link to BlytheLife.com, a link to this specific interview and a link to the Kittyrobot Etsy shop! For 1 blog entry, this is worth a total of 5 bonus entries into the giveaway draw. You must comment below with the URL to your blog entry.
—
For those of you who don't want to leave the potential of a customized Blythe pullring to chance, you can check out the Kittyrobot Etsy shop and contact Kittyrobot to see how you can order yourself a pair (or more!) customized pullrings for your favourite dolls!