Written on March 9, 2011 at 12:00 pm by Michelle
Filed under:
Article
with tags:
Artfire
,
Big Cartel
,
blythe on a budget
,
Etsy
,
Storenvy
There's a lot of different sites where you can go and sell the things that you've made, that's the beauty of the internet. You don't need to know how to code anything yourself (although that would be an asset) and all you need to do is ensure that you input the correct payment information so you can receive the funds and make sure you ship things out in a timely manner. But with so many different site options, how can you tell which one is right for you?
I take a look at four popular options available online for your online selling needs and show the pro's and con's of each option. Some of them are free (!) while others have paid accounts and some just have the same price structure for everyone. It doesn't matter if you know how to customize or code because not all of them even allow for customization, but they all have something in common: all four of the sites I'm talking about to you are sites where you can set up your own online shop.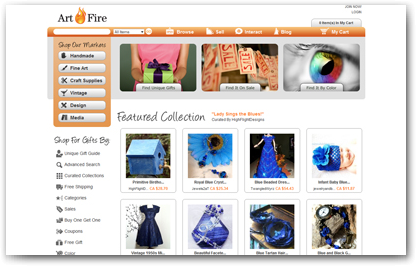 Artfire
Artfire is a little bit newer than Etsy, which can be a good or a bad thing. Good thing is that there is less competition. The bad thing is that less people know about it. There is a 'free/basic' account and you can also pay to upgrade. Artfire does not have fees associated with making a listing or making a sale. Their "pro" account is $9.95 USD/mo (at the time of writing – this is mentioned on their site as a promotional price from the regular price of $20/mo) which includes more freedom in how you can run your online shop. With a paid-upgrade, you can get more images/listing, more customization abilities and the ability to create things like coupon/discount codes. If you don't opt for their paid account, you can list things on Artfire for free, but you do have limitations as to what you can do with your account. The great thing is that there is a free account option, the bad thing is that there are limitations to free accounts (as always). Pro account price may be too expensive for some if you are unable to generate enough sales to cover the cost of your products and the cost of your shop.
Snippets of thoughts on Artfire:
Basic accounts are free
There are no fees associated with making a sale
Pro accounts are $9.95 USD (current promotional price)
There is less than a gazillion sellers on Artfire (in comparison with Etsy), but less than a gazillion sellers also translates to being less viewers on Artfire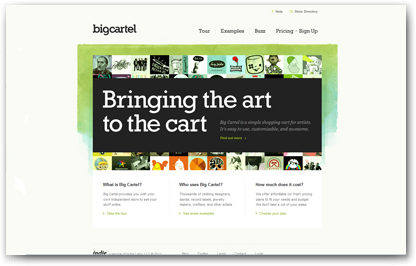 Big Cartel
Big Cartel focuses on more than just handcrafted goods (like Artfire and Etsy) but also includes all branches of art, including music and various designers. Like Artfire, Big Cartel has a free/basic account option (only 5 listings at one time, 1 photo per listing, minimal customizing options) and goes up to various paid accounts from $9.99, $19.99 and $29.99 USD. The number of products you can list increase with each price tier, including the amount of control you have over customizations. The $29.99 USD allows for the most number of products listed at 300 (!) products and that's apparently for a 'small' shop, the $9.99 USD option has a maximum of 25 listings. It allows for site-integration with your own blog that looks a lot more smooth that integration with the other options would be. I actually like how much customization options that you get with Big Cartel. The nice thing about Big Cartel is that there are no fees associated with any sales that you make.
Snippets of thoughts on Big Cartel:
Basic accounts are free and can have up to 5 listings
There are no fees associated with making a sale
Pro accounts go from $9.99-29.99 USD
Great options for customizations (with paid accounts), good options for integration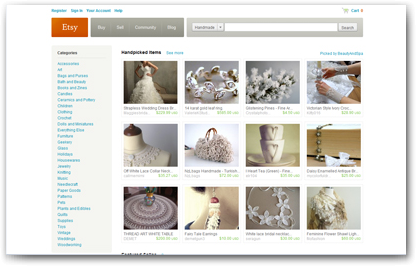 Etsy
Etsy is incredibly popular, which is both a good and a bad thing. A good thing is that it's been tried over and over again by other crafters. The bad thing is that you need to be able to stand out among all the other crafters on Etsy in order to get sales (unless someone is specifically looking you up, in which case less effort is required). Etsy has a lot of page views per day, a lot of visitors, a lot of shops and a lot of activity going on their forums. There are a lot of resources available on Etsy for first-time or veteran online sellers. People discuss techniques as well as sourcing out materials or promotional tips on the forums.
You are charged on a per-item, per-listing basis and a percentage is deducted from each sale after you make one, based on the listing price. Each listing lasts for 4 months. Costs for listing are billed to you via a valid credit card or a Paypal account. Crafters under the age of 18 are permitted to have an Etsy shop provided that the actual store owner is their parent or legal guardian.
Snippets of thoughts on Etsy:
To list one item, it costs $0.20 USD
Each listing can last up to 4 months before it expires (unless someone buys it before 4 months is up)
There is a 3.5% fee per sale that you make on Etsy
There's about a gazillion* other Etsy sellers on Etsy to compete with.
* May be an exaggeration, but it seems that way.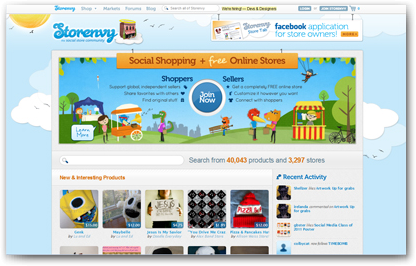 Storenvy
I haven't found very many sites that use Storenvy yet, but it seems like a fun and interesting option. According to their website, a store is completely free. There are no limits to the number of products that you can list for sale, there are no fees associated with any sale that you make (beyond what Paypal themselves take). They also have full customization, for those who are code-savvy and have a lot of free features. For those wondering, Storenvy makes their money from their affiliate/sister site, which prints custom t-shirts for people who want to sell shirts via Storenvy. There is a social media feel to the website, which was one of the goals of Storenvy – people can 'like'/heart your products and write comments directly about your shop and products on your profile (which doesn't appear on your storefront).
Snippets of thoughts on Storenvy:
Only one account level and it's free
There are no fees associated with making a sale
Great options for customization (and by the looks of things, you can make it look just like the rest of your site!)
Social media feel to the whole site with the liking and followers options.
– – – – –
For those that are current online shop owners and selling your Blythe/dolly clothing or shoes or pullrings or anything else that you can think of: what online shopping site do you use? What do you like or dislike about it?