Written on June 6, 2011 at 12:00 pm by Michelle
Filed under:
Question of the Week
with tags:
blythecon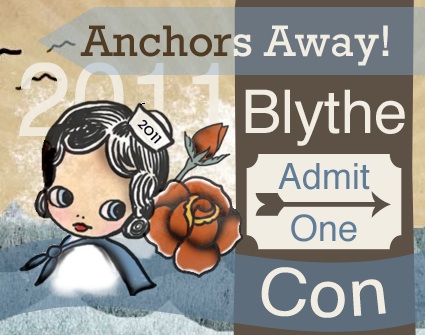 Artwork by Rabbitine /  Badge design by keyinherpocket
In just two weeks, BlytheCon 2011 will be happening out in Portland, Oregon.
I know a lot of Blythe fans are super excited about BlytheCon happening stateside this year and I, for one, am excited that it's on the west coast! For those that don't know, I live in British Columbia, Canada. Which is about a small hop and skip away from Portland (for the geographically challenged, BC is right above Washington state, which is right above Oregon) and that means that I will be there and I'm so looking forward to meeting people who are also dolly-minded.
A side note: If you want to look for me, I'm going to make it super easy for you to find me – I'll be the doll crazy girl holding onto two Blythes. Oh wait, that'll be most people there! I'll have to think of some way to make me easily identifiable.
This week's question of the week:
Are you attending BlytheCon on June 20th? If you are – how many dolls are going with you? If you're not – are you going to be do a Blythe Meet around that date for a mini-BlytheCon?