Written on June 15, 2011 at 12:00 pm by Michelle
Filed under:
Article
with tags:
blythe on a budget
,
crafting
,
diy

Supplies Needed
3mm knitting needles
Sock/fingering weight yarn (under 10g required [under 42m or 45.9yd])
Yarn/darning needle
Snaps
Sewing needle and thread (matching colour to yarn)
Ruler
Decorations (buttons, ribbons, appliques) – optional
Gauge:
3 st per 1 cm
Notes
The yarn used in the dress shown is Regia Jacquard Color 4-ply by Schachenmayr nomotta in colour #5176 (50g per 210m or 230 yards)
Total number of stitches per row mentioned in brackets [#] at end of the row.
Casting off is also known as binding off.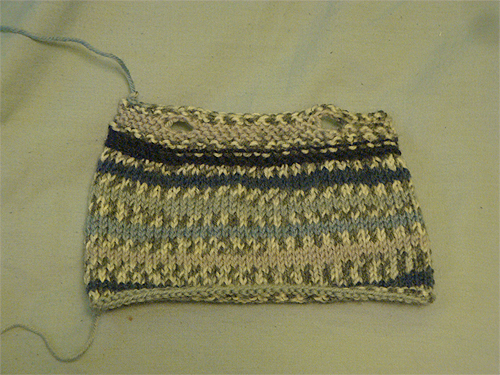 Directions
Cast on 54 (leave a long enough tail at beginning for sewing up the back of the dress; I use the long-tail cast-on)
Knit 3 rows (garter) [54]
Alternate knit and purl rows (stockinette) until total length is 7cm [54]
(On knit side, decrease row): *k1, k2tog* [34]
Knit 6 rows even [34]
Knit 7, cast-off 3, knit 14, cast-off 3, knit 7 [28]
Knit 7, cast-on 4, knit 14, cast-on 4, knit 7 [36]
Knit 2 rows even [36]
Cast-off
Use yarn needle to sew up the back (up to the decrease row).
Sew a snap at the top of the back of the dress, add decorations as desired.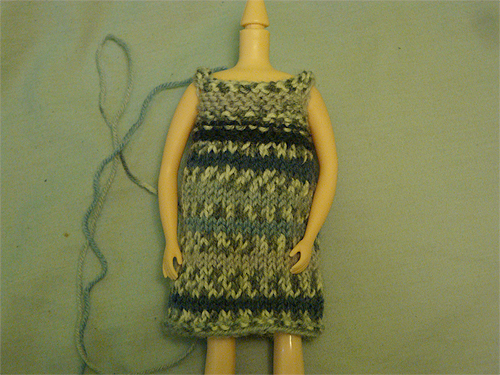 Notes on Pattern Use
This pattern may be used for personal or commercial use provided that full credit is given to BlytheLife.com/Michelle for the pattern (please include a link to the website or pattern page in your sales description). This pattern is not for mass-production manufacturing. You may not sell or claim the pattern as your own. If you have any questions regarding these terms, please email Michelle at michelle@blythelife.com.