Written on January 28, 2015 at 12:00 pm by Michelle
Filed under:
Article
with tags:
blythe on a budget
,
crafting
,
diy
,
free pattern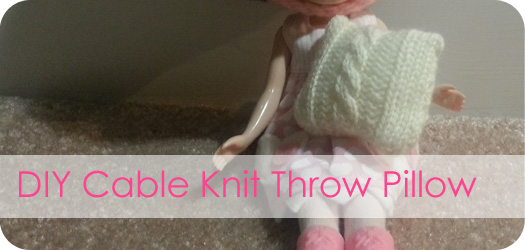 The great thing about cushions is that there is a huge range of 'standard' sizes' for the 1:1 scale crowd (that being us!). For Blythe, I wanted to make some throw cushions for that great Ikea HUSET couch (modeled after the KLIPPAN). My real-life throw cushions on my real couch range from 12″x12″ to 16″x16″ which, in 1:6 scale, would be be 2″x2″ or 2.67″x2.67″.  The nice thing is that you can make these in a variety of sizes, or all the same size.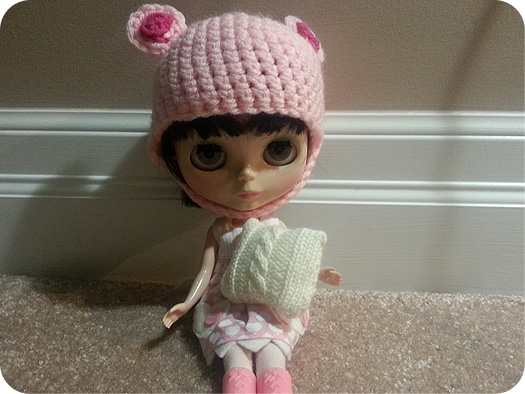 You will need:
Knitting needles (I used 2.75mm/US2)
Small amount of fingering weight yarn (I used KnitPicks Palette in White)
Cable needle
Stuffing
Scissors
Yarn needle
If you are new to knitting, I recommend KnittingHelp.com to learn how! For this project you will need to know how to cast on, knit, purl, cable (C4F means you hold 2 stitches in front, knit 2 stitches from the left needle, then knit the 2 held stitches), and bind-off.
Directions:
Cast on 20 stitches.
Row 1: k5 p3 k4 p3 k5
Row 2: p5 k3 p4 k3 p5
Row 3: k5 p3 C4F p3 k5
Row 4: p5 k3 p4 k3 p5
Knit rows 1-4 a total of 5 times.
Row 5: k5 p3 k4 p3 k5
Row 6: p5 k3 p4 k3 p5
Knit rows 5-6 a total of 10 times.
Row 7: k5 p3 k4 p3 k5
Bind off in pattern.
Leave long tail for seaming up the sides.
Wet block the piece.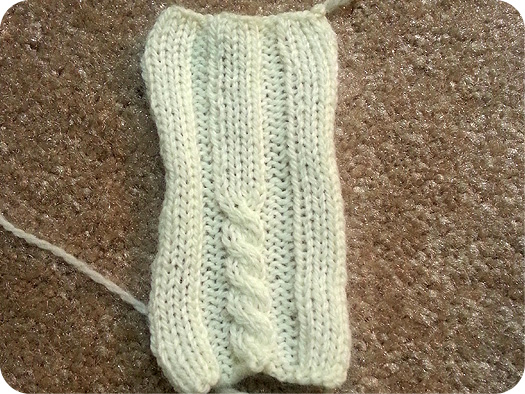 When dry, hold the 'right' sides together, sew up 2 of the open sides.
Fill the pillow with stuffing and whip stitch the third side.
Tuck the end(s) into the cushion.