Written on November 16, 2011 at 12:00 pm by Michelle
Filed under:
Giveaway
with tags:
ScrummyLand
The weather's gotten a bit dreary and what better way to bring a little sunshine into our lives than with a little contest? The wonderful Vicky of Chicki.co.uk and ScrummyLand on Etsy has kindly agreed to sponsor a giveaway.
The ScrummyLand Etsy shop has a lot of Blythe-sized goodies (like cute hats and shirts) as well as accessories for the dolls' human counterparts. What I do like about ScrummyLand is that you can go and buy something for your dolls as well as something for yourself and gifts for some friends while you're there!
I had interviewed Vicky a while back, I hope some of you remember, and we had talked about Chicki.co.uk – which has a lot of dolls, clothing sets and Re-Ment available and she recently restocked! You can find coupons and updates for Chicki.co.uk via Twitter and Facebook.
If you don't want to leave your luck of getting some ScrummyLand goods up to chance, you can get free worldwide shipping when you use the code FREESHIP at ScrummyLand until the end of November.
Giveaway!
The winner will receive a hat and a fluffy top (like the ones pictured below; please note that you may receive similar items in other colours or patterns) and some handmade miniature foods (not pictured):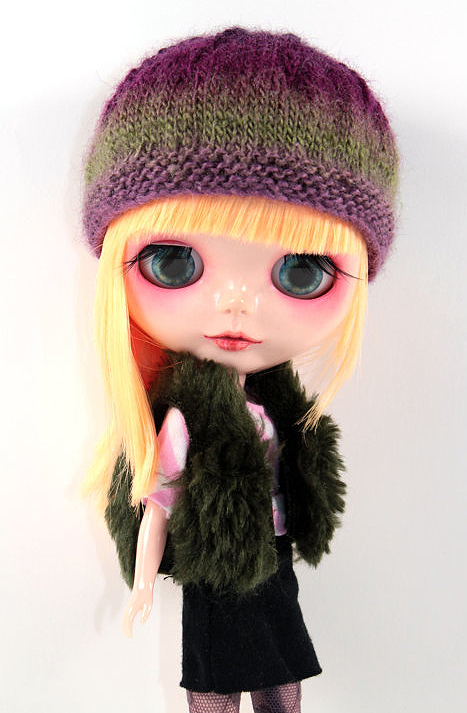 You can get up to two (2) entries for this giveaway draw and you can enter until Wednesday November 23rd 2011 at 11:59pm PST. The draw will be held on Thursday November 24th 2011 and the winner will be announced on BlytheLife.com. Remember to use a valid email address for all comments. If you win, your email will be forwarded to Vicky for arranging shipment of the prize.
Please only use one email address and one IP address per person, those using multiple email addresses for more entries will be disqualified.
Mandatory Entry: Vicky wants to know the answer to this question (so comment below!): We love retro and character t-shirts, so what would you love to have on your doll's t-shirt?
Bonus Entry #1: Rate your top three favourite t-shirt designs from the ScrummyLand Etsy shop and comment below (please make this a separate comment from your mandatory entry).