Written on April 11, 2012 at 12:00 pm by Michelle
Filed under:
Freebies
with tags:
customizing
,
diy
Jen made up this fancy little face-up chart when she was sending off one of her dolls to get customized and she's decided to share it with all of you here at BlytheLife.com! It's a great tool if you're sending a doll off to get customized (and want to make sure that the customizer understands what you want) or if you're customizing a doll for yourself and want to do a bit of planning first!
The face-up chart is available as a PDF download here at BlytheLife, you will need a PDF reader in order to view it on your computer.
Some programs that you can use: Adobe Acrobat and Foxit Reader.
Feel free to print the chart off for your customizing uses, but remember to keep the credits information at the bottom of the page!
Please check out Jen's Flickr photostream (Dolls Crystals and PositivelyStoned) as well as her website, PositivelyStoned.com.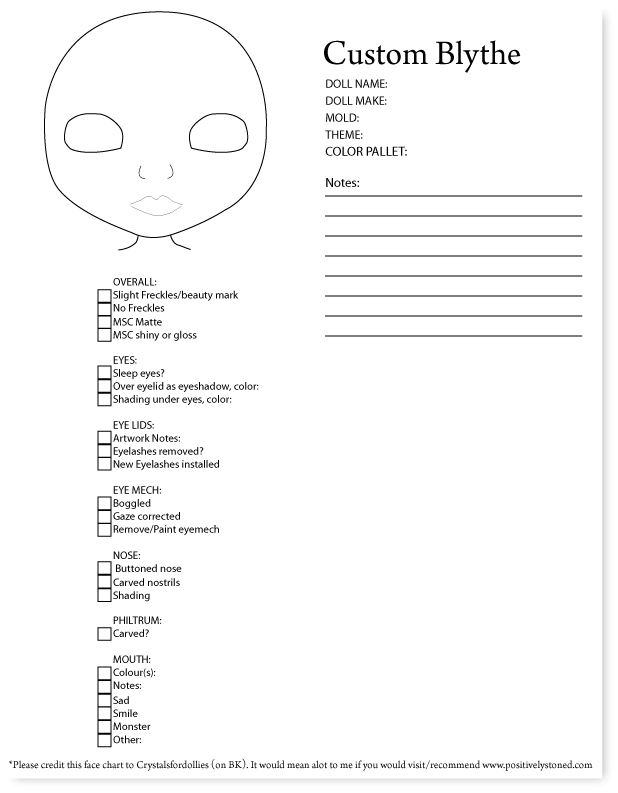 Click here to download a PDF copy of the Blythe Face Chart!
Thank you so much, Jen, for this fantastic Blythe resource!
—
Do you have a Blythe resource or something that you'd like to contribute to BlytheLife.com? Find out how you can contribute here!