Written on November 7, 2014 at 12:00 pm by Michelle
Filed under:
Article
with tags:
customizing
,
diy
DIY Customizing is an irregular series of customizing tutorials. These are tutorials for things that I am able to do for my Blythes and I try to make it as simple as possible so that you can do these easy customizations to your own dolls. I am not a customizer – professional, amateur or wishful thinker of any kind. If you're a kid – ask a responsible adult for help. As always, safety first! BlytheLife.com is not responsible for any damage that you do to yourself, your doll, or your home (or wherever you're customizing).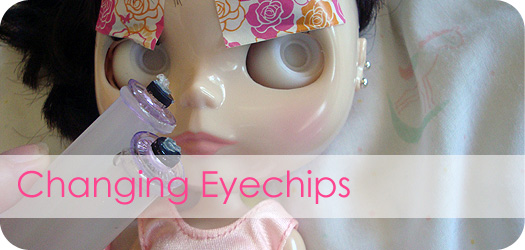 The eyes are a big part of what makes a Blythe unique. I bought a pair of handpainted eyechips at BlytheCon Seattle and I knew exactly who would be getting those beautiful pink chips.
To do your own eyechip change, you will need:
Tape – masking tape or washi/paper tape
Hot glue sticks
Lit candle
Water soluble glue (I use Aleene's Original Tacky Glue)
New eye chips
First I started by "prepping" my doll. With two pieces of washi tape, I taped her eyelashes back so I wouldn't get glue all over them.
Yes, even the tape I use for Eden Mouse is pink!