Written on September 5, 2012 at 12:00 pm by Michelle
Filed under:
Article
with tags:
Love Sophie
After realizing her claim to internet fame last week, Sophie the self-proclaimed fashionista has decided to dedicate some time towards educating the masses on her ways of being a plastic fashionista. Sophie has already stated that she will not be writing every single week, but her new column will be called Love, Sophie and she's entirely interested in knowing about your favourite designers and shops because she seems to think that she's getting paid to write this column (she's not).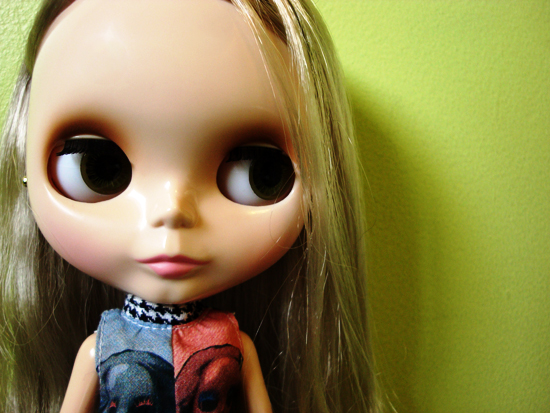 Hi everyone! My name is Sophie. You may recognize me from 365, which took me very, very long to complete (against my will). I'm the first Blythe in the House of Chelleshocks, which entitles me to be the first to wear new clothes in the house. I have a bunch of annoying sisters and I live with Michelle, who doesn't always buy me new clothes. This is my new column, Love, Sophie.
This week I'm going to be telling all of you about how to get new clothes. And this isn't just 'new to you', although being thrifty and wearing vintage is a very 'in' thing to do right now. This is all about getting new-new clothes.
The first thing you need to do is to either have access to your human's wallet, Paypal account or credit card. Once you've gotten that, it's super easy! Once you have any of those three, you just need to go onto the computer when your human isn't around and buy things! And they just come in the mail to you! Yes, it'll likely be addressed to your human, but if your human is nice (or forgetful), they'll just think they bought it instead.
If you don't have access to your human's wallet, you'll need work your human until they say yes. My favourite methods are:
Bait and Switch – Ask for something really expensive and ask for it repeatedly. After they tell you no because it is so expensive, bring up something that's not as expensive. Chances are they'll say yes!
Complain – This doesn't work all of the time, but sometime it does. Like when my sisters are constantly borrowing my shoes and not putting them back properly, I just mention it to my human that they're not really "mine" anymore (even if they are) and how I really wish there was more than one pair of white boots around, for example. Next thing you know, she's offering to buy you a pair to compensate for your troubles.
Woeful Woecakes – Be really sad about the fact that your human keeps bringing in more sisters, or the fact that she doesn't have time for you anymore. Be very sad. And when your human asks what would cheer you up, point them in the direction of that cute outfit (don't forget to include a link to new shoes!).
I hope these methods are helpful to you in your quest for getting new stuff! Sisters can be okay sometimes, but most of the time they're just busy touching all your things! Don't try to mail off one of your sisters though, humans frown upon that unless they've already lined up a new human for your sister (ask me how I know…).
Until next time, stay fashionable!

Sophie is a mostly stock Cappuccino Chat that came to live with me in June 2009. She loves shoes, new clothes, playing with her hair, fashion, magazines full of fluff and shopping. She aspires to be a model and would like to model for some of the 'great' dolly fashion houses one day.