Written on November 9, 2012 at 12:00 pm by Michelle
Filed under:
Article
with tags:
Love Sophie
Hello my faithful fans!
Welcome to another installment of "Love, Sophie", my awesome column here at BlytheLife.com! Today I will be discussing something that not all dolls might be comfortable discussing – the importance of underwear! Now, I know a lot of us don't get much say when it comes to what we wear and how we wear it, but it's up to us dolls to take a stand and not just stay on the stand. We have a voice, and we're capable of using them.
When we're "unboxed", we come with underpants on. Some of us come with nicer underpants than others. Some come with plain white underpants while others, such as myself, came with nice champagne coloured underpants that are much higher class and stylish. Some dolls that get sold "second hand" or "used" might not come with underpants, and that is a travesty, an absolute travesty! Some well-meaning human-types have taken it upon themselves to decide that we dolls don't need underwear. I don't think they've considered the fact that we do. The humans wear underwear, most of the time, but they're not us! The humans sometimes think that our underwear gets in the way of their dressing us, like it's our fault that they can't put together full outfits without making us go commando.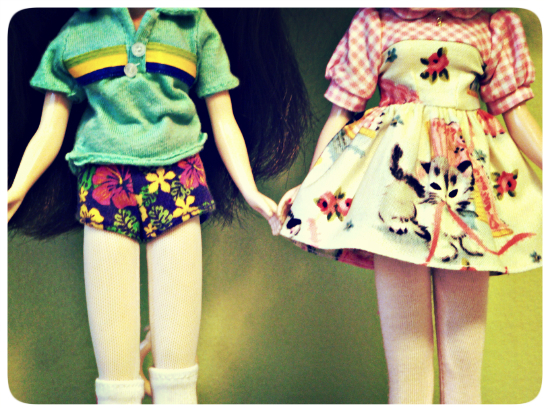 I've enlist the help of my sisters to show that wearing underwear doesn't mean visible panty lines – there is nothing wrong with wearing underwear underneath our clothes and I want you to tell your human that! In the photo above, two of my sisters are wearing underpants – and they don't show! There's no excuse not to demand clean underwear. We can wear underwear and stay the classy Blythes that we are!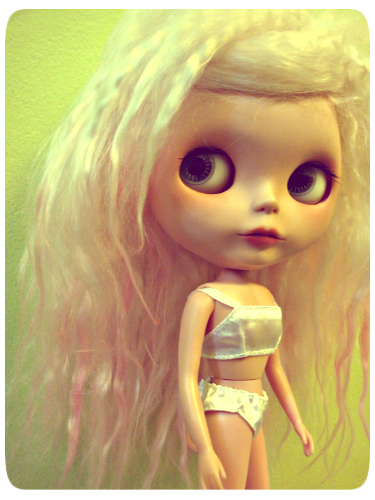 Until next time, stay fashionable!

Sophie is a mostly stock Cappuccino Chat that came to live with me in June 2009. She loves shoes, new clothes, playing with her hair, fashion, magazines full of fluff and shopping. She aspires to be a model and would like to model for some of the 'great' dolly fashion houses one day.