Written on February 12, 2016 at 12:00 pm by Michelle
Filed under:
Article
with tags:
Love Sophie
Hello fashionistas! It's Sophie here!
I don't know what it's like where you are right now, but the weather's been warming up just a smidgen here in Canada – no piles of snow or igloos where I live! And I'm very much looking forward to spring. As the days go by, I need to constantly poke Michelle to remind her that I need an outfit change at least once a day. If she gets to change her clothes daily, why can't I? She doesn't seem to understand my credibility as a dolly fashion blogger is seriously impeded by her not buying me the latest fashions or helping me out by taking photographs of me on a daily basis.
She's horrible and won't let me succeed in life.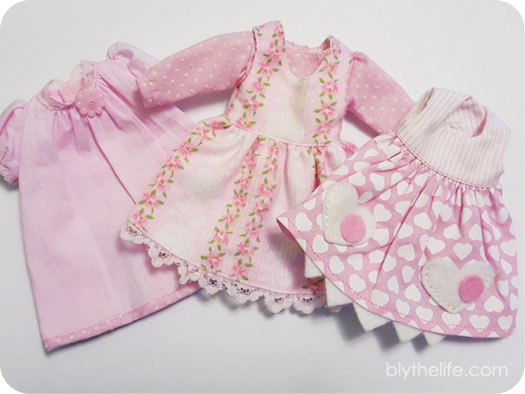 A sampling of pink from Rosiee Gelutie, Endangered Sissy, and Button Arcade.
But besides that, I guess she's okay. My goal for spring is to wear more florals – anything light and airy is a major plus because they evoke a more spring-like quality. And I think pink will be very in this season (please do not tell Eden that). That and wearing more cute shoes, but I need new ones. Nothing say spring like a good hair of new shoes (take note, Michelle!). It's not cheap being a dolly fashion blogger, and is certainly not for the faint of heart. I recently got a hold of Michelle's credit card and did some shopping – like any good fashionista would do. I'm still waiting for things to arrive in the mail, but they will soon enough.
A frock a day keeps the Sophie happy!

Sophie is a mostly stock Cappuccino Chat that came to live with me in June 2009. She loves shoes, new clothes, playing with her hair, fashion, magazines full of fluff and shopping. She aspires to be a model and would like to model for some of the 'great' dolly fashion houses one day.