Written on November 7, 2012 at 12:00 pm by Michelle
Filed under:
Giveaway
I love when I get feedback here on BlytheLife.com and on the lovely occasion of my birthday, I'd like to reward one lucky commenter! I'm giving away a hot pink crocheted bunny hat handmade by me! I made a similar one near the beginning of my Blythe hobby, I found a nearly identical colour in yarn to make a new one.
The prize looks like this (doll and other accessories are not included!):
I went back and looked at the last 100 comments and put everyone's names into a spreadsheet, excluding my own comments. I ran a random number generator last night to determine who would be the winner. Congratulations goes to: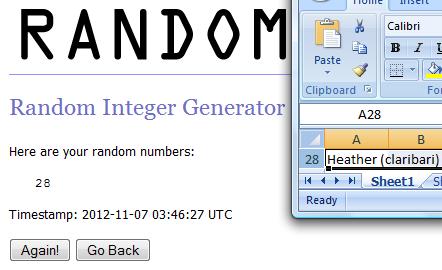 Congratulations, Heather! Please send me an email at michelle@blythelife.com from the email you use when commenting with your mailing details and I'll get your prize in the mail soon!