Written on November 19, 2012 at 12:00 pm by Michelle
Filed under:
Question of the Week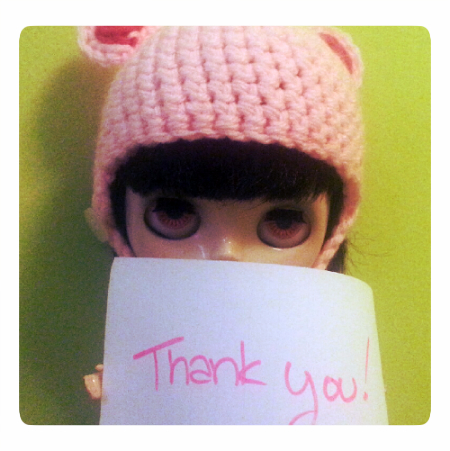 One of the things that I love about the Blythe community is how nice a lot of the people who collect dolls are. Sure, I've come across people who won't play nice or share – and they ruin it for a lot of people. Thankfully, most people in the doll community aren't like that. The golden rules of childhood – share and be a friend; treat others as you'd like to be treated – apply throughout life. For me, Blythe is a happy place. You get cute dolls, beautiful clothes, tiny shoes and the joy of sharing all of that online with other like-minded people if you're too far to meet other doll people in person. And even if you do get the chance to meet doll collectors offline (e.g. local meets, BlytheCon), you still have online interactions.
I've met (online, offline) a lot of fantastic doll collectors since I started with those whole collecting-dolls-thing. Some of the nicest people I've met are dolly people. When I couldn't find the Simplicity pattern locally, a dolly friend found an extra copy in a fabric store in the US and mailed it up to me. I've gotten some cute little things from giveaways run by other people. Someone who shared a love for Olympic mascots exchanged souvenirs with me. There are some amazing people in the doll community and I think I'm very lucky to have some of them as my friends. There are some wonderful, generous dolly people out there and I think they all deserve a shout-out!
Have you ever received an act of kindness towards you by a fellow doll collector? Show your appreciation with a comment below!