Written on January 18, 2013 at 12:00 pm by Michelle
Filed under:
Featured
,
Giveaway
with tags:
Made by Pablita
Pablita is someone that I've talked to quite a bit on Twitter and on Flickr. She has amazing sewing skills and I've watched her progress on Flickr as she creates small dolly frocks in gorgeous fabrics and styles. I was very happy when she mentioned that she'd like to be featured on BlytheLife as it gave me the opportunity to get to know her better!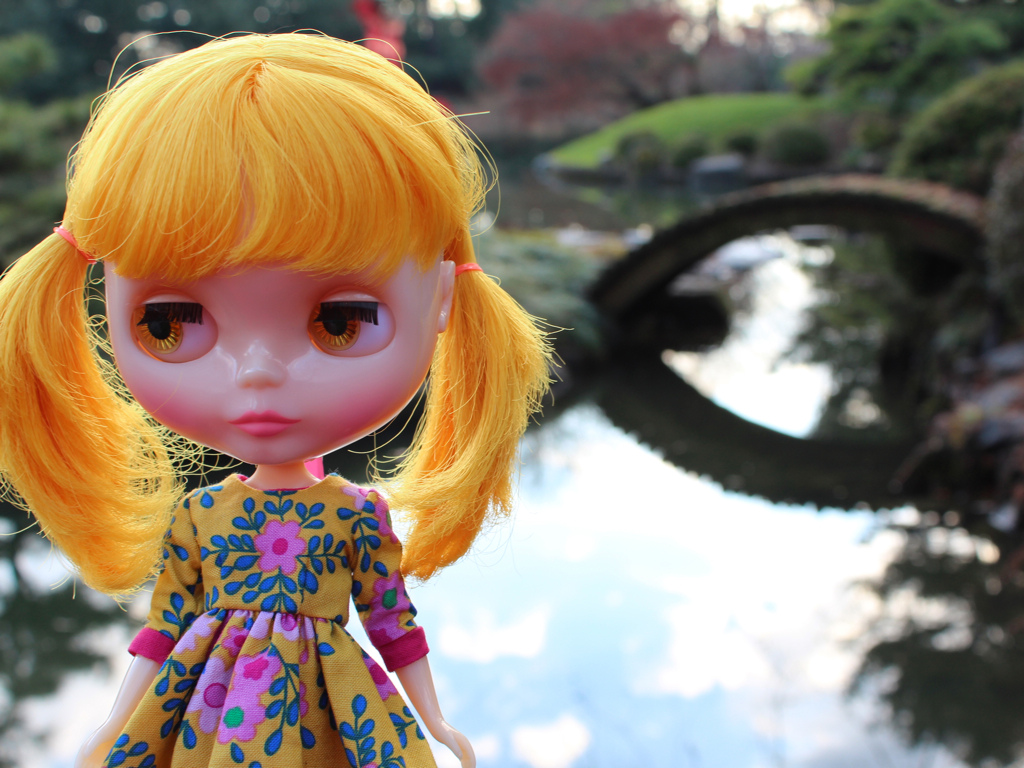 Hi Pablita! What can you tell us about yourself?
What a hard question! Well, I am in my late twenties and work as an museum administrator and educator in NYC. I moved here about 6 years ago to pursue a career in the arts and I've never been more comfortable. My life is pretty normal with the daily 9-5 gig, spending time with friends, and of course, becoming better at all things related to Blythe.
How did you discover Blythe? What does your doll family look like?
I first saw Blythe a few years ago on an internet message board unrelated to dolls. I thought they were quite strange, yet striking. The more I looked at photos from people I knew the more I felt like I needed one, like a Blythe doll would suit my lifestyle so perfectly. Fortunately I received one as a gift two years ago and here we are. I would say I love customs and stock girls equally. My family is small- only three dolls right now- and my two customs were made to my taste. I'd describe the family as pretty and girly, to be honest.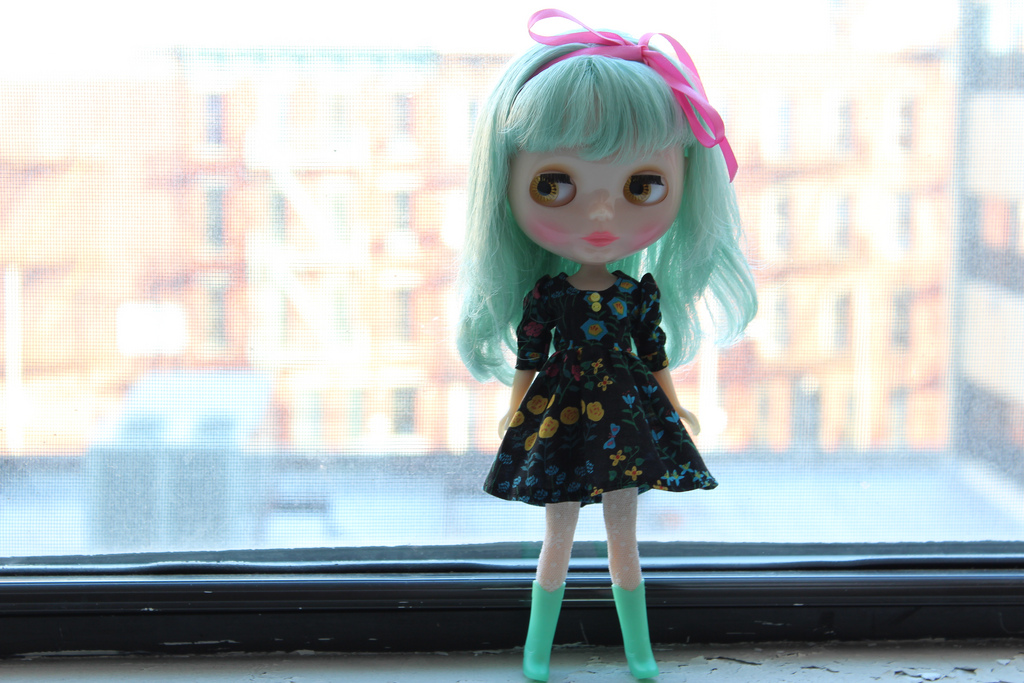 What made you decide to start sewing doll clothes?
Definitely seeing other people's amazing designs. I've always been surrounded by art and artists, though have never particularly felt like much of a "maker." Learning to sew, stumbling through tiny stitches, choosing fabric and notions, and continuing to have faith in myself and my abilities have been the biggest accomplishments of this past year. Finally, after not knowing that I was a maker of things, I am lucky to create a personal creative process to engage with has been fun and challenging in all the right ways. I guess the desire came from, "hey, I bet I could be good at that!"
What has been the most challenging thing for you in learning to sew?
To be honest, the hardest thing has been to let myself make mistakes and be kind to myself when things don't go the way I planned them out in my mind. I still go through moment where I try to fix every mistake I see instead of starting over and cutting myself some slack. I've never liked making mistakes, but becoming better at sewing means that mistakes are part of the process. So while the technical sewing stuff has been challenging, it does not compare to the personal struggle I have to continue to be motivated to become better at something I've come to love.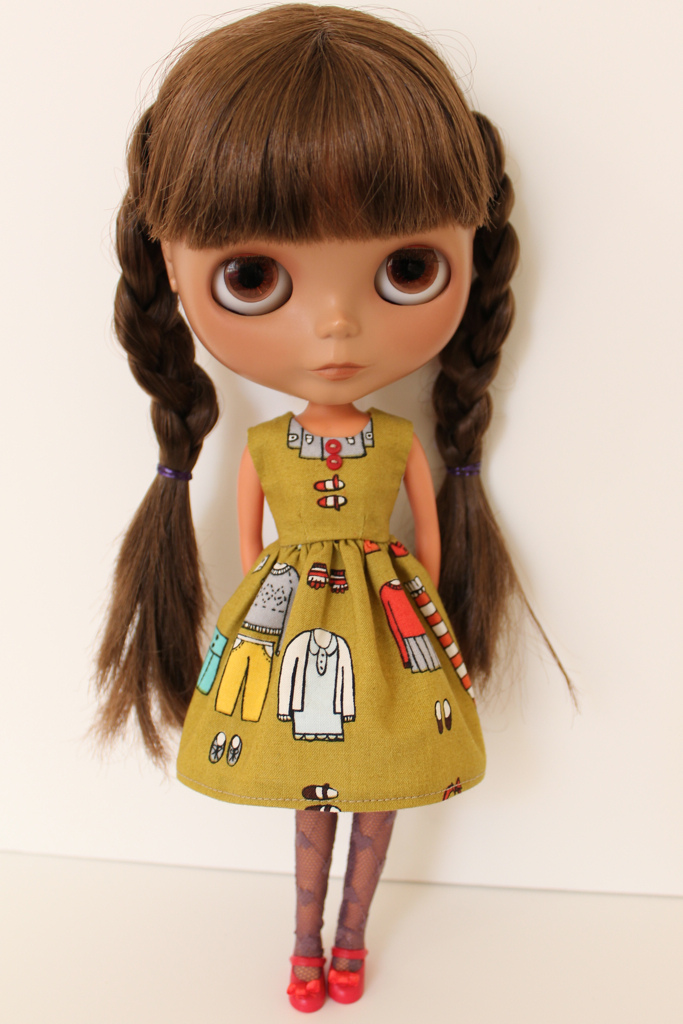 How has your background in arts aided you in your creative process?
Yes, a lot, actually. One of my close friends is a painter and he sometimes talks to me about his process and sends me pictures of his work as it goes along. Sometimes he is frustrated. Other times he feels he got something accomplished in the studio. The trajectory from idea to finished product isn't neat or clean or somehow devoid of missteps along the way. Also, I really like fabric! I love seeing it for what it is. A textile with prints that has an artistry of its own. Maybe I got into this whole sewing thing because fabric in and of itself is exciting. I think I find myself the happiest when I am at a fabric store trying to envision working with the materials there.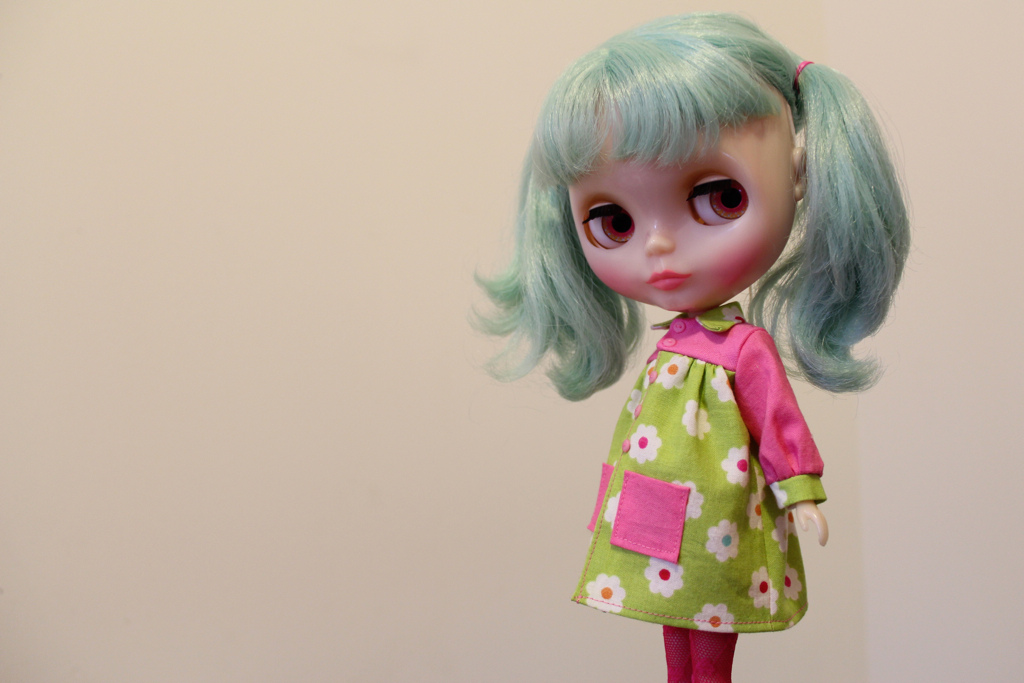 What have you found to be your greatest sources of inspiration when you're coming up with a design or concept?
My greatest sources of inspiration have been my my dolls. I initially became attracted to sewing because I wanted to make things my dolls would enjoy wearing and look good doing so. Whenever I make something the best feeling is not wanting anyone else to have what I just made because it looks so great on my girls. Kind of silly and funny, right? I also have to give a lot of credit to a few of my friends in the doll community who are so forthcoming with their knowledge of sewing and encouraging in my own process. That's really it. I love how fun it is to create tiny dresses. I wanted to take part in the fun instead of continuing to be a bystander.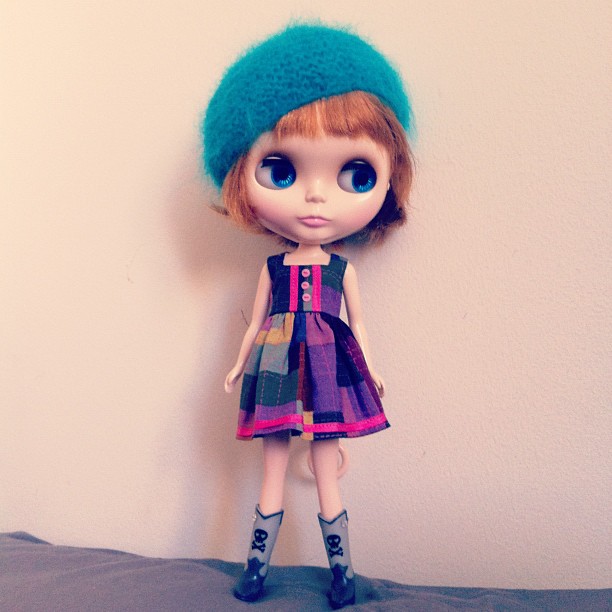 What's your favourite tool to use when sewing that you can't live without?
I love having a good pair of scissors when I sew. There's nothing more frustrating than grabbing the wrong pair and realizing they do a sloppy job!
How has the process been like for you from opening an Etsy shop to crafting things for sale?
The process of opening up a shop has been nerve wrecking. For me, it feels hard to put my stuff out and there and think that someone might covet it enough to buy it. In fact, I don't think most of my sewing is perfect enough to sell. I have to work up enough courage to list something. I've also realized that sewing is a lot less fun if I think about making sales. That's not why I push myself to become better. Sewing is out of genuine affection for Blythe. I could never earn enough selling doll clothes to compare to my job now. So why sweat it so much? Unless I get sewing elves!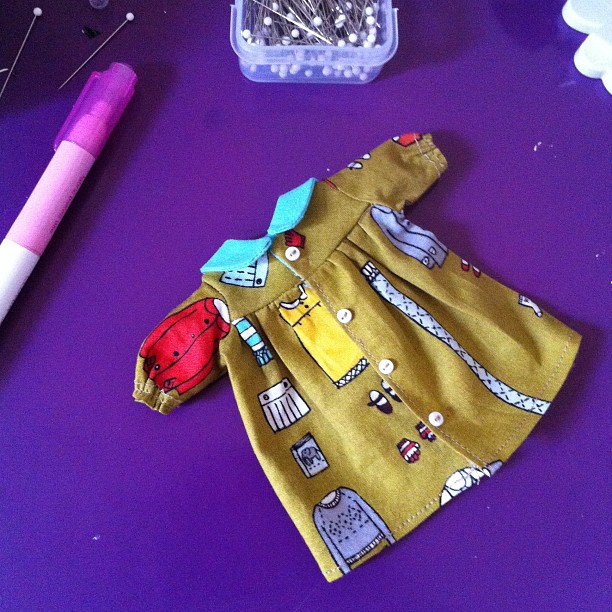 What was it like seeing your work photographed on another person's doll for the first time?
The first person to do it was Zenzile (Zanalee on flickr) and it was really exciting. She had fallen in love with a fabric I used and next time I worked with it I gave her the dress I made. She is someone whose pictures always inspire me so to see her city girls exploring out there with my dress was incredibly fun. That's one of the big reasons why I can't obsess about the Etsy side of sewing. My biggest joys come from people enjoying my tiny dresses, regardless on whether it was a sale or not.
What kind of things might we expect from you in the doll fashion world in the near future
I'd love to get to a point in my sewing where I get more adventurous with fabric choices and trims! I've been concentrating a lot on fit that the other bits kind of fall by the wayside. Plus, to a certain extent, I haven't found my voice in it all.
Thank you so much for doing this interview with me, Pablita! What kind of advice do you have for those who are new to Blythe?
My biggest piece of advice is to enjoy your dolls in whatever way makes you happy. Sometimes the hobby can feel like this pressure filled bubble we all interact in and getting perspective can be hard. When that starts to happen, step away and pick up your doll. Your interaction with her is the only thing that matters, you know?
You can find more about Made by Pablita on Flickr and on Etsy!
Dress Giveaway!
Pablita is offering up a Blythe-sized dress in this style and fabric (but not specifically this dress) in a giveaway here on BlytheLife! Continue reading for more information!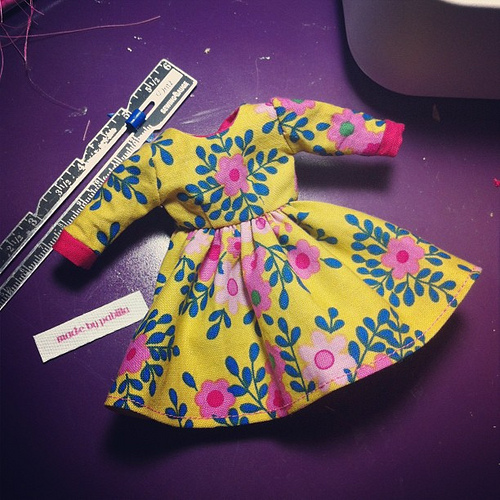 You can get up to eight (8) entries for this giveaway draw and you can enter until Saturday January  26th 2013 at 11:59pm PDT. The draw will be held on Sunday January 27th 2013 and the winner will be announced on BlytheLife.com. Remember to use a valid email address for all comments. If you win, your email will be forwarded to Pablita so you can get in contact about your doll dress!
Please only use one email address per person, those using multiple email addresses for more entries will be disqualified.
Mandatory Entry: Comment below about the interview with Made by Pablita! This is worth 1 entry into the giveaway.
Bonus Entry #1: Tweet about the contest! Please retweet the following once per day from your public Twitter account! (If you look below, there is a box for you to include your Twitter username, if you do, I can easily verify your bonus entry!) Each tweet is 1 entry into the giveaway for a maximum of 2 entries into the giveaway. Please comment below to tell me that you've been tweeting (1 comment per tweet!)
Check out the @blythelifecom interview with Made by Pablita! #giveaway http://bit.ly/WgRTu0
Bonus Entry #2: Blog about the contest! Be sure to include some details about the contest and include links to BlytheLife.com, this interview/giveaway page and to the Made by Pablita Etsy shop! For 1 blog entry, this is worth 5 entries into the giveaway! You must comment below with the URL to your blog post.