Written on June 19, 2013 at 12:00 pm by Michelle
Filed under:
Article
with tags:
Love Sophie
For those in the Northern Hemisphere, it's summertime! And yes, even those living up in Canada get to explore the wonders of fun in the sun. Albeit it's not as warm as other places may be, it's still summer time. Which means it's time to talk about what's hot and what's not when it comes to Blythe summer fashion! My summer 2013 favourites include: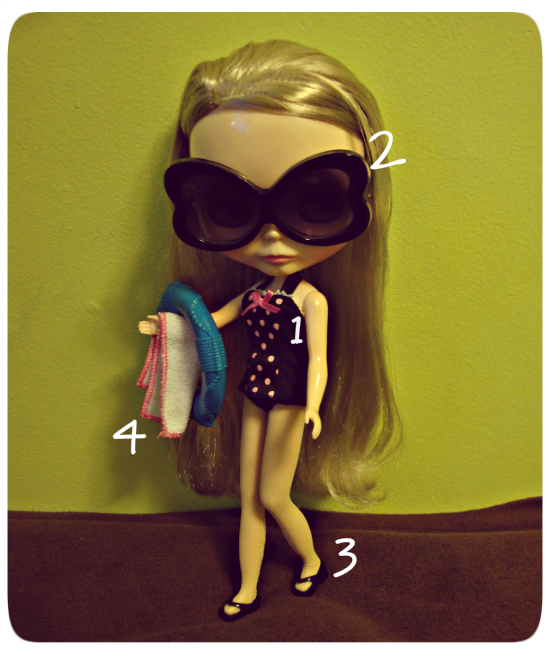 1. Bathing suits that look cute. Now, you may not be able to swim without damaging your eyelashes or having an eyechip potentially fall out, but that is not an excuse not to look fantastic by the pool. My personal favourites include the bikini top from Sunshine Holiday, but the Prima Dolly bathing suits are super cute as well.
2. A fetching pair of sunglasses helps to protect all four sets of your eyechips from the harmful UV rays! Your human should remember to wear a pair of sunglasses as well. You should get those that actually say UVA/UVB protection on them. And be sure to get big ones, like all the big movie superstars.
3. Sandals. Just don't wear socks with them, because that is a very big fashion faux pas. Nobody wants to be the uncool one at the beach, but it's also a good idea to get sandals that look cute with whatever bathing suit that you're wearing. Neutral colours look great, but bright colours are always better!
4. Pool toys are great accessories, even if you have no intentions of getting into the pool. Why not look fabulous while you're lounging about waiting for someone to come with your drinks complete with a little umbrella? Nobody ever said that look fabulous wasn't hard work!
Last, but certainly not least, is the towel. You may not realize it, but the beach towel is the perfect summer accessory. Not only is it useful and functional, they come in some great colours and designs! Might as well look fantastic while drying off, yes?

Sophie is a mostly stock Cappuccino Chat that came to live with me in June 2009. She loves shoes, new clothes, playing with her hair, fashion, magazines full of fluff and shopping. She aspires to be a model and would like to model for some of the 'great' dolly fashion houses one day.