Written on August 15, 2014 at 12:00 pm by Michelle
Filed under:
Article
with tags:
Love Sophie
Even though it is halfway through August, I am still determined to have as much summer fun as I possibly can. This includes dressing the part. There are no excuses for your dolls to be in sweaters when it is the summer and the temperature is above 30°C (that's +86°F for my American fans!). No excuses at all. And I say that as a doll that's been in the same outfit for the several months now. Months. Do you realize how hard it is to look like someone who knows what they're talking about it when comes to fashion when I'm stuck in the same dress for months? Granted, it is from one of my favourite designers – which is the only good part.
My summer wardrobe (if someone would actually help me out with a wardrobe change…) consists of: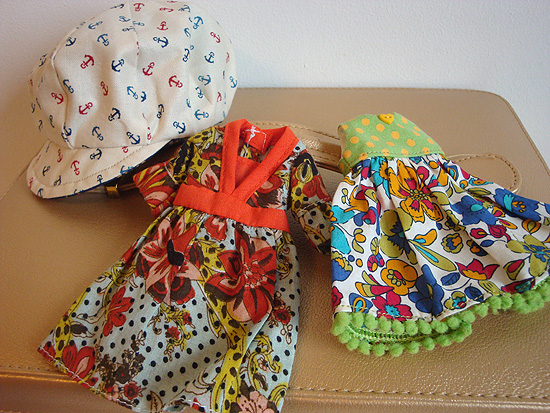 Fun and light-fabric dresses, shorts, sandals, other cute shoes, and a decent hat to keep the sun out of my eyes. If you have super long hair like Cappuccino Chats often have, such as myself, you may also want to invest a couple dollars in some hair ties! They're super handy to have around.
Sophie's Fashion Tip: if you get the small, thin, clear elastics, they can help keep on finicky shoes when you're outdoors and they won't be super-duper obvious in photos!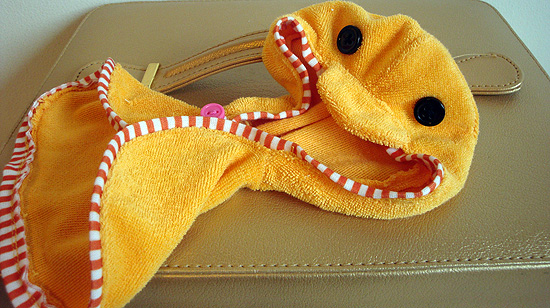 And for the beach, it'll always be a cute swimsuit – to be accessorized with a matching towel (of course!), and a swimming cover-up!  Unfortunately, the weather here has been absolutely dismal for the last week or else I would model for you – it's just too cold for swim suits! For those curious, the swimming coverup was made for Lalaloopsy Little dolls.
And yes, it is perfectly acceptable for fashionistas to have, and wear, hooded duck towels.
Until next time, stay fashionable!

Sophie is a mostly stock Cappuccino Chat that came to live with me in June 2009. She loves shoes, new clothes, playing with her hair, fashion, magazines full of fluff and shopping. She aspires to be a model and would like to model for some of the 'great' dolly fashion houses one day.