Written on August 14, 2013 at 12:00 pm by Michelle
Filed under:
Article
with tags:
blythe on a budget
It's that time of year again where we're all still clinging to the hopes that we can fulfill our resolutions for the new year – or maybe you're like me and have already given up on the idea of keeping with this year's resolutions. It's also the time of year where I've recently paid off tuition for school and therefore I'm a bit short on funds. This means, of course, that I'm not running out and buying two Kenners at once or clicking 'Add to Cart' on really pretty doll dresses – no matter how much I might like another two Kenners or those doll dresses. No, this time around it's a bit different – mostly due to my severe lack of income.
I decided to think about some of my favourite and best non-doll doll buys. That is to say, things I bought related to Blythe that weren't actually the dolls themselves. Due to the number of things that I like that I've bought, I decided to pick five that I greatly enjoy and thought I'd share. Not only are they all great, but also good deals as well. I included any prices that I could remember.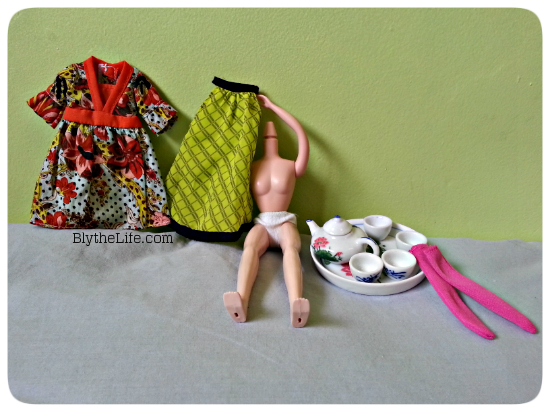 The Re-ment dress is the most recent purchase in the photo at $6 – I've wanted it ever since I saw it on a photo of a Rainy Day Parade on Flickr. The lime green dress was from a bag of thrifted doll clothes, approximate value that I paid would be less than $1. The Licca body came to me at $12 with free shipping via eBay. The tea set was purchased in China during my travels this year and was less than $2 CDN. Lastly, the pair of hot pink knee socks (which I love!) came with an outfit set that I picked up in Hong Kong came with a dress, shrug and shoes that came out to be under $2 CDN altogether, so the socks were quite inexpensive – and I love the colours for Eden!
What are some of your favourite non-doll doll-related buys?