Written on November 20, 2013 at 12:00 pm by Michelle
Filed under:
Article
with tags:
Blythopia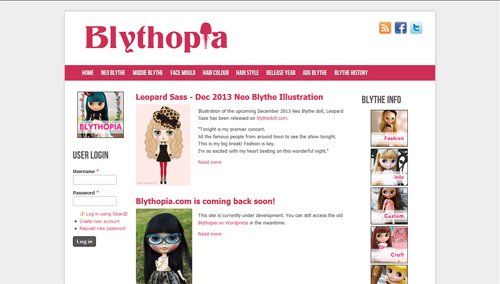 I love giving support to other great doll websites, and this is another great doll website made by someone that I call my friend. Blythopia has recently been revamped and was revealed yesterday! The website is owned by Katie from 222am.org and Kult of Kulta.
The purpose of Blythopia is to be a reference website for all of the doll releases – including Middies and ADGs! If you ever wanted to search the dolls by face mould or hair colour, you can do that too! While it has been recently been revealed, not all of the dolls' information has been inputted yet – so be patient! I can see Blythopia being a fantastic reference for all Blythe collectors, new and old alike. It's especially a great resource already for the Middies as it already has information up to Puchippu Chappu Pepa, the purple-haired Middie that is being released in December 2013.
Be sure to check out Blythopia if you have the chance, and give Katie props for taking on such a huge project!