Written on November 27, 2013 at 12:00 pm by Michelle
Filed under:
Article
with tags:
Love Sophie
It's almost my favourite time of the whole year! What is so fantastic about it? Gifts, of course! I'm quite fond of gifts. Unfortunately, due to the sheer amount of sisters that I have, we tend to receive 'group' gifts. So things that are shared amongst us,although I try to remind my sisters that I was here first and therefore I should have first dibs. That seems fair, doesn't it? First come, first served, first dibs! That and I am the only one that Michelle has entrusted with her Paypal details… (This is not true, Sophie! I've changed it now!)
My best holiday gift ideas for your Blythes are as follows; Michelle, take note!
Get yourself to your local Ikea (or just the Ikea website!) and get a HUSET for your dolls! Possibly the best furniture set that has come out for us dolls in 2013!
A pair of black Mary Janes, any style that you'd like. They're a fantastic staple to have in a girl's shoe closet.
A new dress. Holiday themed in shimmering gold is a great idea.
Golden hair bows. Lots of them. The more, the merrier as shiny things are a girl's best friend.
And to top it all off, a cute cardigan to keep your warm while you're out in the freezing cold.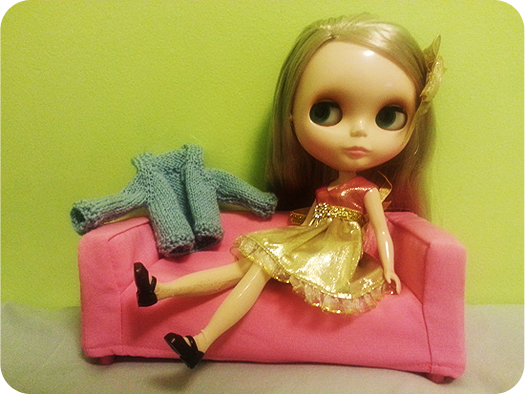 What kind of holiday gifts are you looking forward to and have on your holiday list, fellow dollies? Please share so I can add some to mine!
Until next time, stay fashionable!

Sophie is a mostly stock Cappuccino Chat that came to live with me in June 2009. She loves shoes, new clothes, playing with her hair, fashion, magazines full of fluff and shopping. She aspires to be a model and would like to model for some of the 'great' dolly fashion houses one day.