Written on December 20, 2013 at 12:00 pm by Michelle
Filed under:
Article
with tags:
blythe on a budget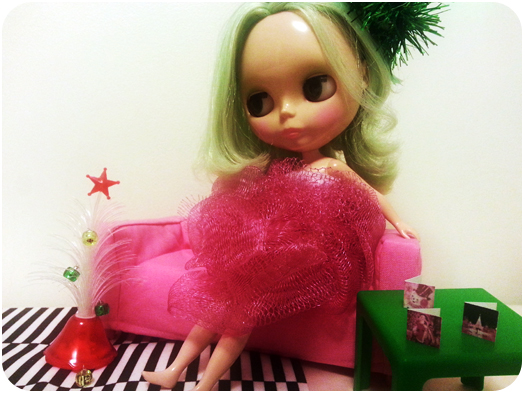 Little ornaments on the small fibre optic tree… Christmas cards on the table… There was going to be two dolls in the photo, but honestly, nobody else wanted to wear a bath-puff dress. The bodice is made out of felt, I took apart the bath-puff to use as a skirt – I can't tell if it's too puffy though. But I do love the little hair-clip hat. Too adorable (and only $2!). I'm going to be borrowing it for a Christmas party next week.
I will, however, be on the lookout for a more traditional tree on Boxing Day this year. Something that can handle ornaments, for one, and is closer in height to the Blythes.