Written on January 8, 2014 at 12:00 pm by Michelle
Filed under:
Article
with tags:
blythe on a budget
Besides weight loss, smoking cessation and the goal of not eating out as much, one of the common resolutions that people make for the new year is to be more organized. I am no exception when it comes to that one because I do want to become more organized and be able to find things a little easier. One of the areas that I wanted to organize a bit more were my doll things – the dolls themselves, clothes, shoes and accessories. Now the shoes were fairly well organized to begin with, I use plastic boxes that have built-in partitions to keep the pairs of shoes grouped together so it's already easy for me to find full pairs at a glance.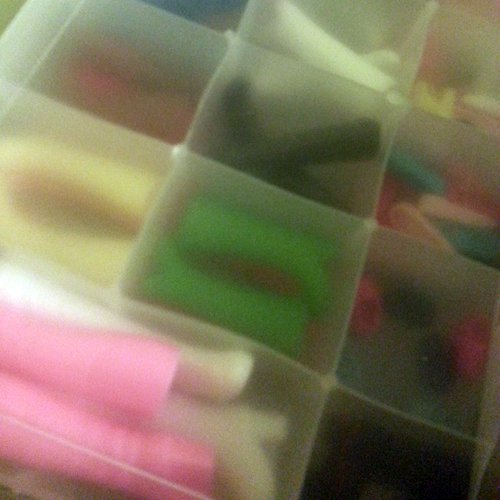 I buy my plastic boxes at a chain craft store – you can find similar ones at different shops (hardware shops, dollar stores, other craft stores). I always wait for a sale though, unless you're in a hurry you can always wait for a sale. I believe I got these at 50% off, so they came to under $1.50 before tax.
The clothes for my dolls typically live in two plastic drawer sets. Each drawer holds different things, and to keep things even more organized, I keep clothing sets and clothes made by the same designer in plastic bags. I picked up drawer sets at a hardware store and resealable plastic bags at a dollar store. Keeping like-items in bags makes it easier for me to dig through the copious amounts of doll dresses and it makes it easier when I get the urge to dress a bunch of girls in clothes by the same designer.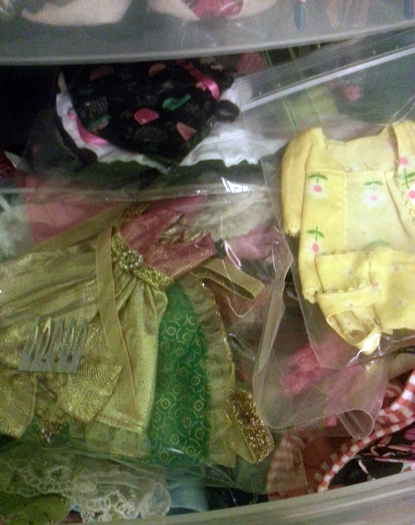 I want to further organize things. I have a small collection of eyechips that haven't been given to a particular doll yet, and customizing items for the small pangs I get towards the notion of attempting to customize a doll. Plus I really want to start building up a wardrobe for my solo Middie, so I plan to get another box (not a full set of drawers…) for Middie items! Because I really don't want to mix in Middie things with full-sized Blythe items.
A lot of people keep things a little bit more organized than me – I've seen those gorgeous shelves with dresses on real 1:6 sized hangers hanging on rods like a closet. That's a little too organized for me, I'd much rather just be able to grab and go when it comes to dressing the dolls that I have.
My best tips: get boxes, or drawers, organize items with other like-items, remember where they are kept and always, always remember to put them back where they belong as not doing so it the best way to mess up the system.