Written on January 29, 2014 at 12:00 pm by Michelle
Filed under:
Article
with tags:
Love Sophie
Move over pink, there's a new colour in town. I know there are some people who adore the colour pink, but it's just so over by now (sorry, Eden!). With the Olympics right around the corner, I want to remind you all of some really great colours: gold, silver and bronze. More importantly, you should all be decked out in these colours. Now, maybe not necessarily bronze (that is third place, after all!) but definitely gold and silver. More gold and silver, I say!
Gold and silver look great – regardless if it's super shiny or kinda dulled down to not look too flashy. You can't be too covered in sequins in the office (or so Michelle tells me), which is kind of boring in a way, but if you want to stay employed in order to buy more friends like me it may be good idea. Now, there is such a thing as "over doing" something. You don't want to be like my little sister Eden and only ever wear one colour. That's just awful and, frankly a bit boring. No, if you're going to go with gold or silver, you should pair it off with another colour. Maybe one that won't over power the metallic sheen because that would defeat the purpose.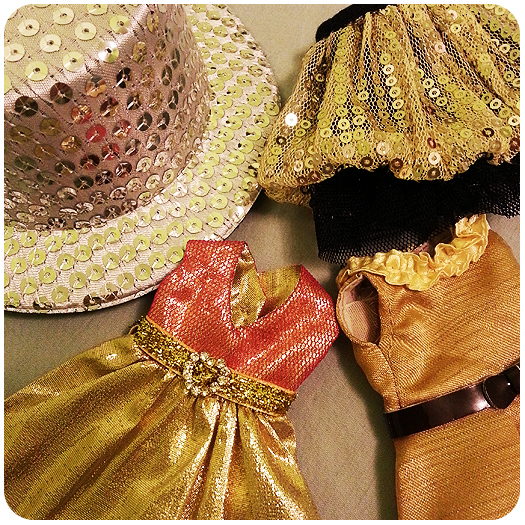 Here's a look at some of the clothes that I've pulled together. Now wearing all of this would be a little overkill (because, hello, wearing two dresses at the same time?), but a little gold or silver here and there works out well! And with that, I'm all ready for the Olympics as I cheer on Team Canada, how about you?

Sophie is a mostly stock Cappuccino Chat that came to live with me in June 2009. She loves shoes, new clothes, playing with her hair, fashion, magazines full of fluff and shopping. She aspires to be a model and would like to model for some of the 'great' dolly fashion houses one day.