Written on April 25, 2014 at 12:00 pm by Michelle
Filed under:
Article
with tags:
middie
,
personal challenge
Kitty Brighton is the only Middie currently living at the BlytheLife Headquarters. She is a stock Jackie Ramone (I don't trust myself to do very much customization on the big Blythes, I'm not able to fiddle around with the innards of her little Middie head!) and she has a woefully small wardrobe. So one of my (new?) goals is to focus on building her a wardrobe. Some things that I've have decided that I will do include:
Knitting and crocheting her some cardigans, hats, and/or dresses.
Sewing her some clothes (e.g. pants, dresses – the thought of sewing sleeves puts me off)
Finding her some more shoes.
I know that there are some amazing creators of tiny Middie-sized clothing out there, but it's sort of a personal challenge for myself as well. As she is my only Middie, I don't have to worry about clothing more than one doll – which is a blessing in itself. While I'd love to get my hands on that adorable Yellow Marshmallow Middie (who doesn't have yellow hair…?), it's just not in the cards for me at  the moment (unfortunately…). So instead of thinking of the Middies that are being released, that I love, and that I cannot afford to bring into the family right now, I focus on wardrobe building for the Middie that I do have!
This is all that Brighton has right now, seriously: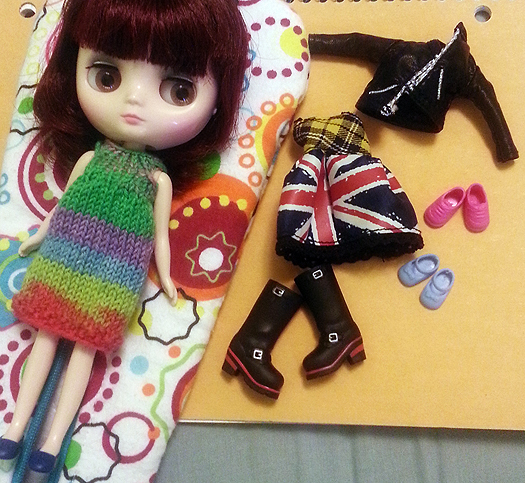 And the poor thing doesn't really get her stock boots all to herself because they also fit her big sisters. I will hopefully have an update soon of how much I've been able to make for her! Hopefully a few little projects here and there will start to add up to a cute little closet full of custom-made goodies for her!