Written on October 15, 2014 at 12:00 pm by Michelle
Filed under:
Musings
Tiny things make me happy. This is probably obvious from my love of dolls, doll shoes, and other miniature items. Have I mentioned that I love small things?! I love my dolls and toys, and this extends to the toys for my dolls. This, of course, works best for dolls who are 'young' in personality.
This is realized with mini Lalaloopsy dolls, plastic toys that come from chocolate eggs, and other miniature loves that come into my life.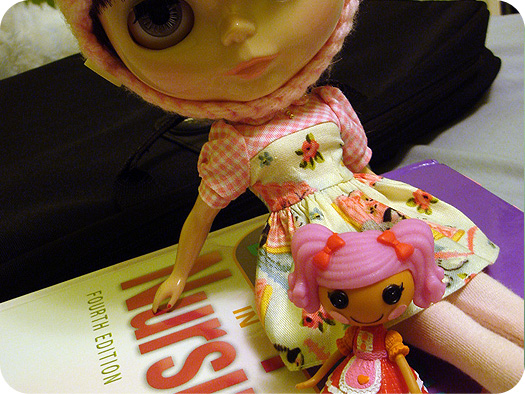 My favourite are the mini Lalaloopsy dolls. There is just something incredibly charming about the idea of a doll that has her own dolly. I don't have very many mini Lalaloopsy dolls, I have exactly two, but they are very charming and I'm always on the look out for them on sale (I recently saw them in a shop that has a small toy aisle and they were marked at $20 for 1 doll with a few accessories – way too pricey for me!).
What are your favourite doll-sized toys? Do your dolls have toys?