Written on June 24, 2015 at 2:30 pm by Michelle
Filed under:
Article
One of the nice things about having a collection of small toys is that they make great photo props with Blythe dolls. I'm very fond of photos of Blythe dolls with the mini Lalaloopsy dolls because it looks very sweet when dolls have dolls that are sized appropriately. And then there's the not quite to scale plush that also make for fantastic photos, and the furniture that I can put the dolls on.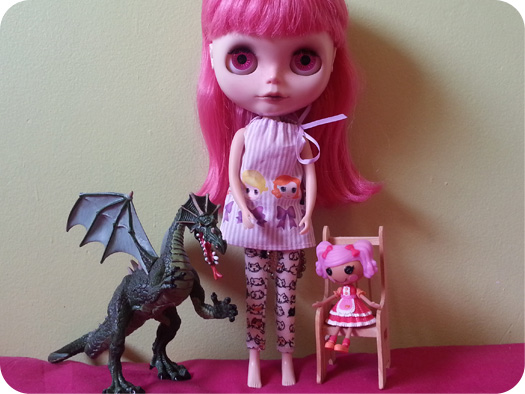 "This is my dragon and my dolly. Do you want to play with me?"
There's something fun about setting up a photo with toys that aren't Blythe – just for something different. And if you have a dragon figurine? All the better to include it in. Who doesn't love a good Blythe and dragon photo? But my favourite doll to put with Blythe would have to be the mini Lalaloopsy, she slightly edges out the My Little Pony figurines that I have.
What are your favourite dolls for dolls? Do you have mini Lalaloopsy dolls for your Blythes?
Cameo's wearing: dress/Puppy52Dolls, leggings/Endangered Sissy.