Written on February 13, 2015 at 12:00 pm by Michelle
Filed under:
Article
with tags:
meets
One thing that I get asked occasionally is "How do I find local Blythe people?" and that can be a tricky answer. If you do what I did, it's an expensive adventure.
I attended BlytheCon Portland in 2011 not knowing a single soul in the Blythe community (besides friends made online) and I lucked out. I found people who are local to me and it's been an amazing ride so far with my local Blythe group. We have meets, we have swaps, we have an annual Christmas party. It is an amazing group of people and I couldn't be happier to be organizing Canada's first BlytheCon with a trio of awesome people (BlytheCon Vancouver! Yay!).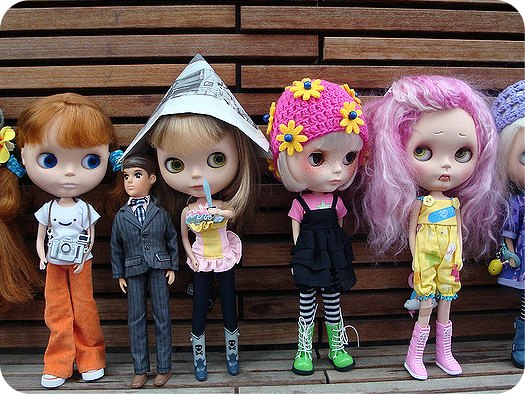 For those who aren't about to attend a BlytheCon or an event of equal proportions, I highly recommend going onto forums (Blythe Kingdom) or Facebook groups (e.g. Blythe World). If you are serious about wanting to find someone locally to you, remember to keep yourself safe when interacting with people that you meet online:
Ask if someone is a Blythe fan in a major metropolitan centre close to you, or in the general around around you, rather than stating your own town/city if it isn't a big area.
If meeting up with someone, meet in a public place that is well-lit where people will be (e.g. mall, public library).
Safety in numbers! Bring a friend (or someone you know) with you. Two birds with one stone – meeting new people and introducing people to Blythe all at the same time.
Always remember that your personal safety is number one. As lovely as people can appear online, someone could state that they are a young teenaged doll hobbyist and really be a middle-aged man with ill intentions. Keep yourself safe and have fun! There are many wonderful people in the Blythe community and if you're lucky, you'll find someone nearby to hang out with and have some meets with.