Written on April 29, 2015 at 12:00 pm by Michelle
Filed under:
Article
I love stock Blythe clothing. Some of my favourite Blythe clothing pieces are stock items. Off the top of my head, I adore: Fancy Pansy's lingerie set and white capris, Simply Peppermint's black top, Love Mission's police pants, everything from Velvet Minuet, Nostalgic Pop's hot pink flowered jacket, Monique Magnifique's coat, Enchanted Petal's butterfly dress, and the champagne dress that came with Cappuccino Chat.
Stock items are super useful, especially items that are solid coloured and not overly decorative – they are great for mixing and matching, they come with the smooth, thin dolly velcro for closures, and you know that they'll fit Blythe = the most important thing. Having clothes that fit well is a glorious thing in the doll world – much like how I prefer clothes that fit me and look good on me, I love it when a dress fits Blythe amazingly.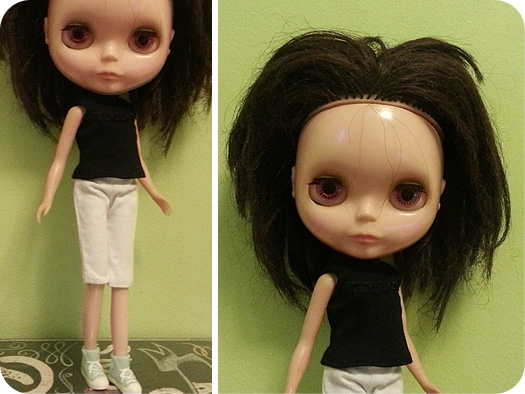 Primrose is wearing Simply Peppermint (top), Fancy Pansy (capris), and Simply Guava (shoes).
Another nice thing about stock items is that you can visualize them on your doll a lot easier, especially if you have a stock doll, by going onto a photo sharing site like Flickr and seeing if someone else with the same doll has tried those clothes on their doll. You can also see more photos of those specific clothing items on a larger variety of dolls than you can if you're buying something that is one of a kind. That isn't to say that I think that stock clothes are better than one of a kind handmade items, but you do get a larger range in 'models' than you would with a unique piece. But I do love my one of a kind items as well, because they're special in the way that stock items would never be.
What are some of your favourite stock clothing items?