Written on June 3, 2015 at 1:00 pm by Michelle
Filed under:
Article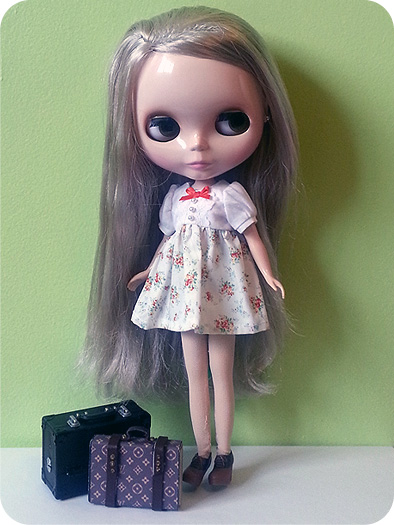 I have taken a Blythe along on trips before. These trips have varied from taking a long bus ride, to being in a car and going on a ferry, to flights going across the Pacific Ocean. If you're planning on taking your doll along for a trip, here are some of my tips for you:
Carry your doll(s) on you, if possible. Given that luggage can be misplaced or miss getting put onto planes, I'd feel more comfortable carrying a doll in my purse or carry-on bag (this goes for all valuables and fragile items).
Consider getting a travel case. There are many sellers out there that sell Blythe carry cases. I personally use Sew Pixie carry bags. Alternatively, you could purchase a plastic case or another type of pouch.
For all types of Blythe – protect their face! Regardless if your doll is stock or custom, nothing makes your heart sink more than an obvious scratch in the blush or eyeshadow. I use white t-shirt material (from old shirts) to cover their face. Any soft fabric would do. I've heard of some people using plain white paper towels as well (none of that patterned stuff!).
Carry spare clothes and shoes in a zipped bag. I use a separate pouch to carry their clothes and shoes, and that goes into my purse or carry-on bag as well. Keeping things tidy and having a place for their shoes and clothes to go into when they're not in use makes keeping organized so much easier.
Bring a hat. While you may not want to photograph your doll in a hat, hats can help tame bangs and keep hair more tidy while your Blythes are being schlepped around. I've made a few helmets that are great for this purpose! Alternatively, if you've kept any of the plastic bands that come on stock dolls, this is a great time to pull them out to keep that hair tidy.
Bring shoes that won't fall off. The last thing you want to do is attempt to retrace your steps while on vacation, or to go home while missing a favourite shoe. I tend to favour boots when I'm on trips because of the likelihood that they won't fall off. A great tip is to get those clear tiny hair elastics to keep shoes on if they are likely to fall off. I use these when I've got Skipper flats on a doll, or any other shoe that I think is liable to fall off.
If you have any travel tips that you'd like to add, be sure to comment below!
Sophie's wearing: dress/Puppy52Dolls, tights/Cool Cat, shoes/Monique Magnifique stock.