Written on June 12, 2015 at 12:00 pm by Michelle
Filed under:
Article
with tags:
tiny shoe love
Today's shoes are some of my favourite, even if I don't use them in photos a lot. (And in case this is not your first time reading a installment of Tiny Shoe Love, yes –  I do have a lot of favourites.) These beauties: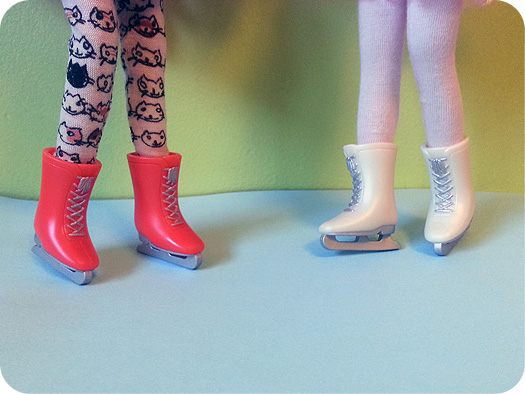 Yes, they are skates. These are Simply Sparkly Spark and Simply Bubble Boom's stock skates. SSS came with the pearl skates and SBB came with the appropriate orange skates. And how cute are they?! Very cute. I'm featuring them now because it's been very hot where I live (mid to high 20s °C) and I'm dreaming about snow and ice and skating and all things wintery. Summer is not my favourite, I'm afraid. I'm a huge fan of cooler weather – hand knit socks, sweaters, and cute hand knit accessories weather. That is my favorite. Alas, it is nearly officially summer… So while I'm trying to stay hydrated I can admire the adorable skates and think of cooler times.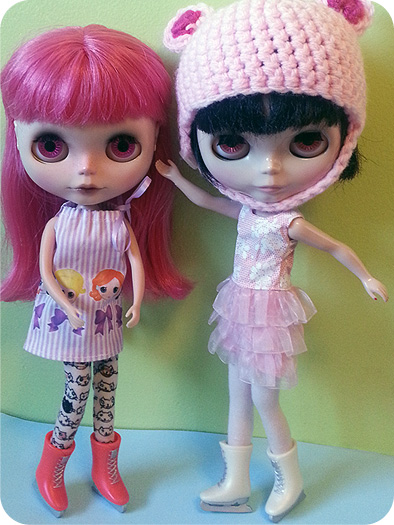 The skates that came with the trio (I do not have Simply Thumpty Thump, STT came with matching skates, but in violet) are super adorable, I really appreciate the details that are added on. The silver colouring for the blades, the details for the laces. Little added touches like these are what makes doll shoes so very irresistible for me.
I'm still holding out hope that one day Takara will put out another series of shoes sets since I totally missed the boat on the Shoe Cruise Day and Night sets. I kick myself every time I see those cute pink boots on a doll's feet in photos because I want them a lot.
Tiny Shoe Love is a feature on BlytheLife.com to showcase and share doll shoes that grace Michelle's picky dolls' feet. We love tiny shoes in this house, and we hope you do too!
Cameo's wearing: dress/Puppy52Dolls in BlytheCon fabric, tights/Endangered Sissy, skates/SBB.
Eden's wearing: dress/Monique Magnifique stock, tights/unknown, skates/SSS.