Written on June 18, 2015 at 12:00 pm by Michelle
Filed under:
Musings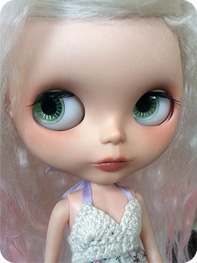 There is something about doll collecting that is addictive. With Blythe it's three fold for me. The dolls, the clothes, the shoes. Oh, the shoes! What probably doesn't help is that there is always a new release of some sort, followed by the latest in fad customs, well-made tiny fashions, and did I mention the shoes? Due to the social aspect of Blythe, it's hard to avoid seeing photos of someone's new dolls or new doll related purchases, which really drives the keeping up with the Joneses factor of the hobby. With that in mind, when does enough become enough?
Blythe, like many hobbies, is a luxury. I had a conversation a while back with a friend in the hobby who was upset as she had to go without buying a new doll because her child (her real-life, flesh-and-blood child) had a growth spurt. And due to this growth spurt, that money earmarked for a new Blythe was going to have to go towards clothing her child. While I had heard people joking in the past about needing to eat instant noodles for a week to make up for the fact that they bought a new doll, it also didn't occur to me that for some people this isn't a joke.
Because Blythe is a hobby, that means it show rank lower than necessities: shelter, heat, electricity (because if you didn't have electricity and internet and a computer, you would not be reading BlytheLife right now!), food, clothing (for you and your children), transportation, and a whole host of other things. If you're getting upset over needing to use money to clothe your growing child (and, let's be honest, I think most people would say that a child experiencing a growth spurt is a good thing) instead of buying the doll that happened to catch your eye that one day, maybe it is time to step back and reevaluate your spending – or go on a budget, as it were.
The nice thing about Blythe is that it can be as expensive or inexpensive as you'd like. Some people create everything for themselves, while others find themselves with a mixture of self-made and bought clothing and shoes. The important thing is to not get too carried away with the spending.
While it may be fun to get lots of packages in the mail (and I love getting packages in the mail!) it can be also very easy to get carried away or forget that yes, you do need to pay off your credit card bill eventually. It can be easy to get caught up in buying new releases, new customs, whatever customs happen to pop up on Facebook, but it is important to remember that Blythe is a luxury hobby because is not a necessity. Spend wisely, and save up when you need to. If it was meant to be, you'll eventually wind up owning that doll or dress or whatever it is that you want. And if not, then something else will come along and catch your eye.
Alternatively, you could find yourself in a cycle of buying and selling, which for the fickle collector may be the route to go if you easily tire of what you already own and enjoy the aspect of trading.