Written on September 23, 2015 at 12:00 pm by Michelle
Filed under:
Musings
This past weekend, I went to a Blythe meet with my amazing and wonderful local group of dolly friends – if you had attended BlytheCon Vancouver you probably would have met most of them! It was our first doll meet following the big event that happened on August 9th. Can you believe that it's been over a month and a half since BlytheCon Vancouver? I can't! It was a whirlwind of excitement (and stress) that led up to the Big Day! I had a lot of fun with the day and got to talk to so many amazing people – it's always great being able to put names to faces. I always associate people's names or usernames with their avatars, and a lot of people use photos of their Blythes so I don't know what anyone genuinely looks like half the time!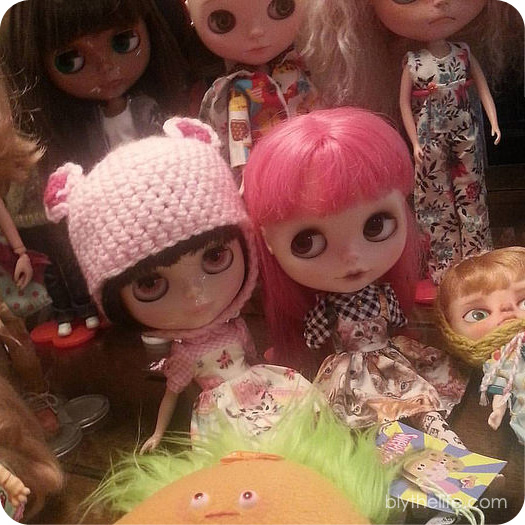 Eden Mouse's wearing: helmet/chelleshocks, dress/Plastic Fashion.
Cameo's wearing: dress/Plastic Fashion, leggings/Endangered Sissy.
The most curious thing happened though. I saw all these great dolls – stock and customs, in amazing fashions and shoes and I didn't find myself wanting to add another doll to my family. I also didn't see any clothes and really want to dig into what the maker was and, gosh, could I just buy it?
I have been collecting and amassing dolls and dolly thing since 2009, so just over six years now. Have I finally reached a point where I'm content with the dolls that I have? While I'd still love to add a BL to my collection (because, let's face it, it's the one Takara-made mold face that I'm missing), it's not a pressing want right now. This may also have to do with my lack of spending money, but let us not quibble over facts. It is a bit of a novel feeling because I have, for the most part, always wanted new dolls, or new clothes or shoes for dolls, and it's a bit weird to honestly not be actively wishing for a money tree so I can buy All The Things! I'm happy with the dollies that I have, and it is an odd feeling.
Are you content with what dolls you have?