Written on October 3, 2015 at 2:00 pm by Michelle
Filed under:
Article
with tags:
tiny shoe love
Boots. Beautiful sparkly red glitter boots. Oh yes! I recently got these from Reallusion Photography, who was destashing these boots at a local Blythe meet. Score!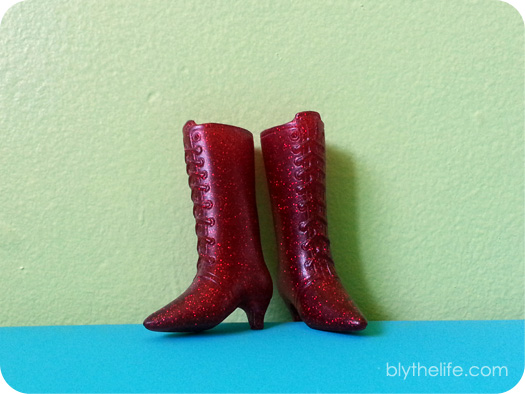 These boots are by Jemgirl Creations – I have other shoes from Jemgirl as well. They are made out of poured resin, and are delightfully glittery, very evenly mixed. Very sparkly, and it's eye catching. I love them! These are quite possibly the most glittery, sparkly doll shoes that I own! There's also some amazing detail that Jemgirl was able to get from the original boots, the lace detail is subtle with the busy glitter design, but it's a fun detail to have in a quality pair of boots.
Tiny Shoe Love is a feature on BlytheLife.com to showcase and share doll shoes that grace Michelle's picky dolls' feet. We love tiny shoes in this house, and we hope you do too!