Written on July 25, 2014 at 12:00 pm by Michelle
Filed under:
Article
with tags:
tiny shoe love
I love doll shoes. Love, love, love doll shoes. There's just something about the small size, the quaint details, and the adorableness of having tiny shoes that I just love. Which then inspired me to actually share more of my tiny shoe collection. I've already made a shoe display, but I just love shoes so much that I need to share more of them on a regular basis! This serves several purposes: allows me to play more with my tiny doll shoes, allows me to showcase some cute shoes that you may not have seen in person, and kind of enables me to buy more shoes. This is both of a good and a bad thing.
In this premiere installment of Tiny Shoe Love, I decided to show off two pairs of shoes:
Stock heels from Monique Magnifique: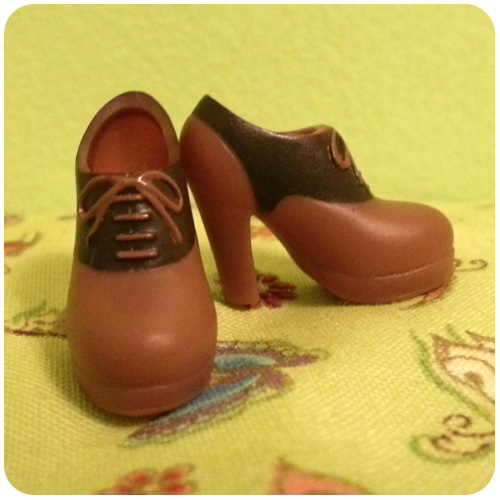 I like these stock shoes because they have the lacing detail with the two-tone design. Additionally, the shoes are just slightly curved to create a left and a right shoe (if you can't tell the difference, it's okay because there is an R and an L on the bottom of either shoe).
Vintage dark brown squishy Barbie boots: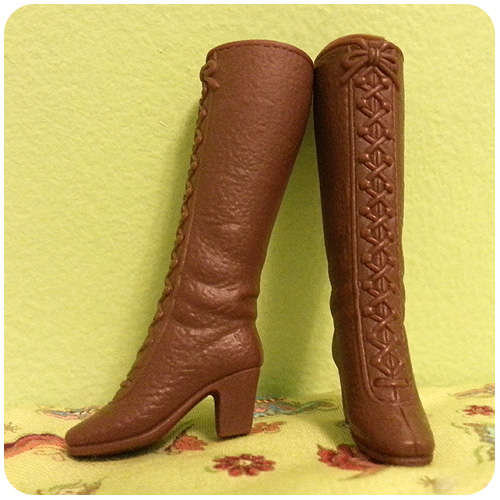 Vintage squishy boots are wonderful, I quite like them! They come in many colours, but this pair photographed is dark brown. As you can see, they managed to put in a lot of detail in a single-coloured boot. There is the lacing up the from, with the bow at the top, as well as the slouch at the back near where the doll's ankles would be, and the boots are highly textured.