Written on October 5, 2015 at 12:00 pm by Michelle
Filed under:
Musings
with tags:
middie monday
Middie Monday is a feature that is published on the first Monday of each month! A guaranteed monthly post on Blythe's little sister – Middie! If you have any suggestions for a future Middie Monday post, please send me an email or use my Suggestions form!
A couple weeks ago I wrote about being content with the Blythes that I have, but then the promotional photographs of Melanie Ubique Girl (an October 2015 release) came up. And despite the horrible name (ubique – really???!), although "ubique" is an actual word (for the curious, it is Latin for "everywhere"). But Melanie Ubique Girl's older sister is Margo Unique Girl and it would have been a touch more fitting if the Middie was named Melanie Unique Girl (MUG 2.0). She is an adorable doll with super cute ash blonde hair and bangs (I'm a big fan of Middie dolls with bangs). And while I may not be in the right situation to buy a new Middie right now, she is super cute and I'd love to add her to the dolly family one day! (Plus – those shoes! the socks! the sunglasses!)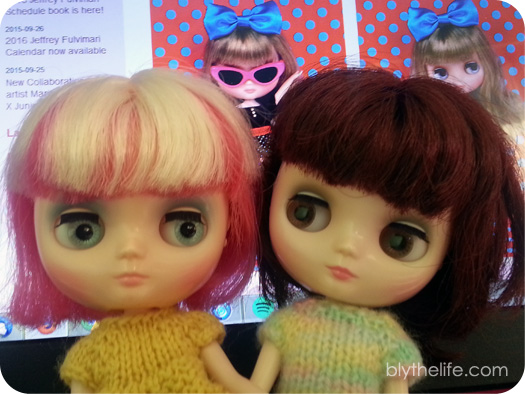 Do you think Melanie Ubique Girl would fit in well with Lydia (Yellow Marshmallow) and Kitty (Jackie Ramone)? And while I really was content with the dolls that I do have, now I'm jonesing for a new dolly. Maybe it's because she's super cute, or because I really love MUG 1.0 (but will never ever be able to afford her or justify buying her), or because I just really miss the whole aspect of continuously and obsessively checking tracking online.