Written on October 28, 2015 at 12:00 pm by Michelle
Filed under:
Musings
with tags:
crafting
,
diy
,
middie
,
personal challenge
It's been a little while since I mentioned that I wanted to challenge myself to sew for my Middie dolls. I made the unfortunate challenge to myself that I would craft Kitty Brighton's outfit by myself and that challenge didn't go away when Lydia Melbourne joined the dolly family. I haven't made a lot – unemployment and job searching takes a lot of time and effort, which really took away from my general crafting energy. However, I've found my crafting mojo and I put my sights on creating this for my dolls: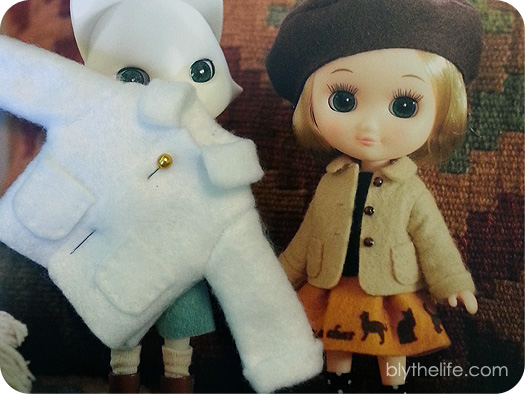 It seemed simple enough and I could figure out the steps by looking at the diagrams. If you're stuck on directions, one great thing about the Google Translate app is that you can take a photo and then select the text to have it translated. You do have to keep in mind that Google Translate will translate text very directly and literally, so the translation might not make complete sense. But if you just need a general hint or push in the right direction, it might work out for you! It works better on printed text than handwritten text in terms of recognizing words.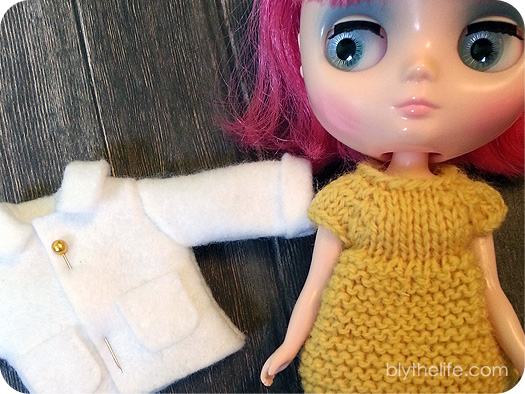 Some things I noted – the body of the coat is a bit tight when Lydia is wearing a knit dress (it may be due to the thickness) and the sleeves are just a touch too long. The pattern gives fairly generous seam allowances and I did them a bit smaller than the pattern called for, and any little bit extra in length is obvious when it comes to tiny doll clothing. But still, it is fairly cute! I still need to add button holes and beads for buttons, but I'm really pleased with it!
I hand sewed this felt coat. From start to finish (start being tracing the pattern onto a separate piece of paper), it took approximately 2 episodes of Gilmore Girls (approximately 85 minutes). I'm definitely going to make the Blythe-sized version of this, I think it'd be cute as a winter 'wool' peacoat!
The pattern book I'm using is often referred to, in English, as the Hand-Sewn Doll Coordinate Recipe. I used the Google Translate photo option and it translated the text as "Hand-Stitched", which is fairly close to Hand-Sewn – you'll get more search results with Hand-Sewn over Hand-Stitched if you want to get your hands on the same book! The Hand-Sewn DCR has seven basic patterns for each doll size (Middies are the 20cm size, Blythe wear the 22cm size): dress, top, pants/shorts, skirt, romper, coat, and cape. There are photograph tutorials on pattern usage, it's quite handy and easy to understand with just the photographs. It is very beginner-friendly! There are also some accessories patterns like head kerchiefs, hats, eye masks, bags, and socks.
Lydia Melbourne's wearing: knit dress (chelleshocks), coat (chelleshocks).