Written on November 18, 2015 at 12:00 pm by Michelle
Filed under:
Musings
I have quite a few wants, not needs, when it comes to Blythe. Just a few, but here they are in no particular order:
I want an affordable Blythe doll that comes with translucent plastic that doesn't become overpriced on the secondary market before pre-orders even get shipped out the door (and then I also want to own one, preferably with pink hair)
I want more doll boots (because tiny shoes are my favourite things), I'd also love for Takara to produce another set of boots/shoes! It's been almost 5 years since the Shoe Cruise Day & Night sets were released (December 2010, according to Blythopia.com).
I want official Middie outfit sets or shoes releases! It's also been a long time since the last official Blythe outfit set (2009).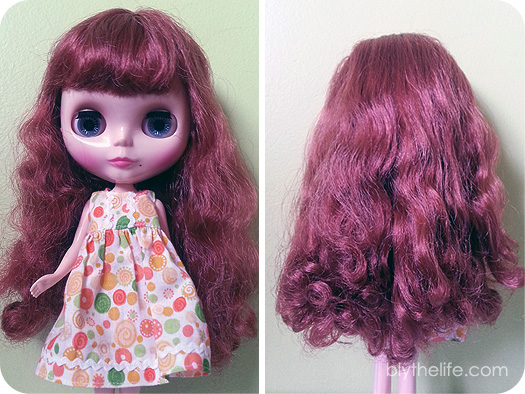 I want a doll with curly hairy that doesn't look like a hot nest the moment it leaves the box. Is that so difficult to achieve? (Above is Cedar, my Monique Magnifique – this is post at least one hair detangling session.)
I want to add a couple more dolls to my family – but being responsible is kind of making that unlikely right now! If I did have the funds, I'd love to add a BL (my first!) and another Kenner to the doll family.
I want to craft more! When I was down about not having a job, I didn't really spend a lot of money on my dolls because of the fact that there's such a buy-buy-buy mentality that I can get into at times. This is one of the reasons why I tend to buy in bursts – a lot of purchases in a very short period of time, and then I sit there wondering about where my money all went! I've definitely tightened the proverbial belt when it comes to unnecessary spending, which makes me want to do more – which includes using supplies (that I

already

own!) to create things.
Some of these wants (mostly the curly hair, adding new dolls to my family at this moment in time) are a bit more of a pipe dream than other wants right now, but I do think some of them are achievable. Including the aspect of crafting more, and perhaps sending an email to the people who make the decisions about new doll and accessory designs that there are people who want more shoe sets in hopes of getting it done.
What are some things that you want more of when it comes to Blythe? Share in the comments below!