Written on April 6, 2016 at 12:00 pm by Michelle
Filed under:
Featured
with tags:
everyday collector
Everyday Collector is a feature I first wrote about in March 2016. It's a feature to showcase the collectors in the Blythe community. If you are interested in being featured, please click here for more information.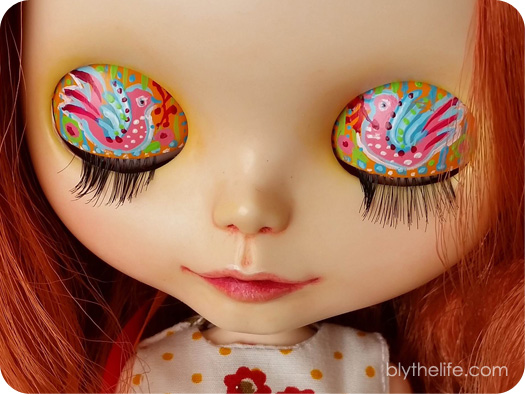 Tell us about yourself.
I'm Rinntara. I'm 33, female, and live in New Zealand. Blythes are very uncommon here.
How did you discover Blythe?
I've been collecting dolls for about 3 years. From almost nothing, I suddenly decided to go in for dolls with enthusiasm. I had an injury and I needed something to focus on. I started with Barbies, and in the course of internet research I saw photos of Blythes and Pullips. I couldn't tell them apart.
January: I said 'Ech! They're ugly!'
June: I decided I liked the Pullip's articulation and her face grew on me. Then I said 'I want a Pullip. I still hate Blythes, though!' In trying to decide which Pullip I saw a LOT of photos of Blythes. I said, 'I wish people would tag their photos properly so Blythes don't come up when I search for Pullips. Who likes them anyway? Well, that one's quite cute.'
September: I bought a Pullip. Expensive, for me! Shipping also expensive to NZ. Sewing for my Pullip: 'Why are the cutest clothes on Blythes?? I don't hate them so much now.'
November: 'No, Blythes are not cuter than Pullips. Well, maybe that one, but that's a custom so it doesn't count.'
December: 'Ok, I like Blythes. But I'm never buying one. They're too expensive and even if they are cuter than Pullips I'm not buying another expensive doll.'
Later in December: 'Oh my goodness I have to have a Blythe! Ahhh how do I afford one I need one NOW!'
Tell us about your Blythe family.
I have two, both randomly chosen by the lottery of being second-hand in New Zealand. Seriously, people here fight each other to buy the very few that ever appear on our local auction website Trade Me.
First was Friendly Freckles ( I fell for her hair immediately). She is fully but lightly customised, carving and all. Uh, not her scalp. I like her hair as-is. It was scary but wonderful customising her. Her name is Apricot.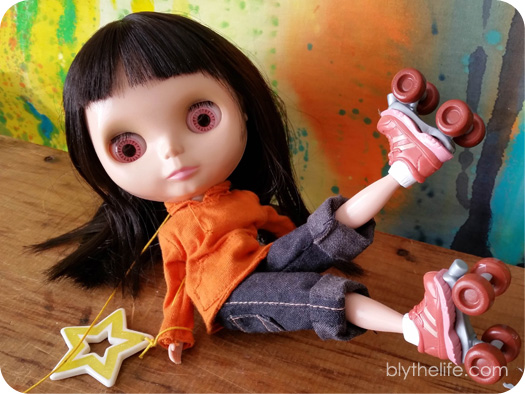 Next was Love Mission. I bought a mixed group of dolls that included 3 Blythes. One I sold on immediately to offset the price of purchase as she was in the best condition (Primadolly Ginger). The other two were in bad condition. One I fully customised and sold as a custom. The other I gave a haircut and fell in love with her, hard. That's Bee. Apart from the modifications of her previous owner and replacing missing eye chips, and a minor haircut to fix her awful hair, she is as-is and I love her like that! Flaws and all she is my favourite, I'm not ashamed to say it. Her name is Bee and she features heavily on my Instagram because I dote on her.
What is your favourite thing about Blythe?
I love the way Blythe inspires creativity in people, both sewing and photography. It was photography that drew me at first, but my sewing has vastly improved! I love sewing now. When non-Blythe people say she's ugly or weird, I have a warm feeling saying I love her just how she is. I've learned there's no one path of adorableness.
What is your favourite aspect of the Blythe community?
The willingness to share ideas and creativeness. The shameless devotion to the adorable. I have learned to SQUEE and it's so much fun. Some people's ideas are just so CUTE.
Rinntara can be found on Instagram.