Written on June 22, 2016 at 12:00 pm by Michelle
Filed under:
Featured
with tags:
everyday collector
Everyday Collector is a feature I first wrote about in March 2016. It's a feature to showcase the collectors in the Blythe community. If you are interested in being featured, please click here for more information.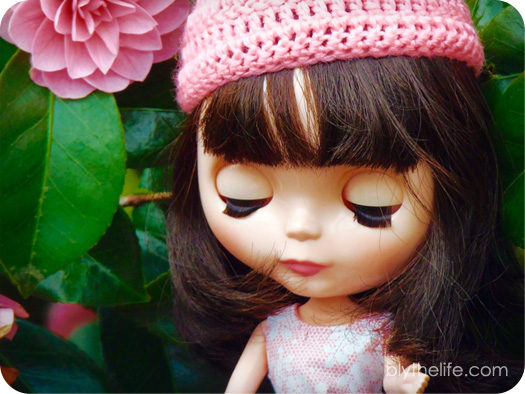 Coco.
Tell us about yourself.
I'm Christopher, I'm a cosmetology student in Portland and I've been a freelance makeup artist for years. A recovering club kid at the age of 40, I live a more sedate life with my Shih-Tzu, Lily. I love fashion,
old black and white movies, flappers, crochet, makeup artistry, glitter and of course, Blythe.
How did you discover Blythe?
I was living in San Francisco and online at the library catching up on blogs on a lovely summer day. There was a blogger I used to read, and she had this mini Blythe, and the doll tattooed on her arm. It was awesome! I asked her about the doll and she said the really cool Blythe dolls had pull strings. Their eyes moved…she sounded creepy and I forgot bout her.
Flash forward a few years, I was visiting my best friend out in the Oregon coastal mountains. A quilter and toy collector/eBay seller and in her insanely packed sewing room, amidst all the Heather Ross fabric, was a Good Neighbor Cafe in a box and I squealed with delight. She showed me her Ashton Drake redheaded beauty and a couple other ones who escape me. I was hooked and had to get my own.
My best friend handed me Gina's books and was so excited that I was so enthusiastic and delighted with the dolls. I of course had tons of questions and she told me about reputable sellers and your first doll will speak to you to buy.
Coco, Greta, and Betty Blue.
Tell us about your Blythe family.
My first doll was Simply Chocolate. I loved her little sixties coif and fashion and promptly name her Coco after model Coco Rocha. Simply Love me (renamed Greta) and Monique Magnifique (renamed Clotilde, currently undergoing a transformation) joined the household a few years later. I admired the sellers on Etsy, eBay and Ravelry with their custom girls and a few that were darker skinned and many other dolls with brightly coloured hair. So I researched for a "factory" seller who was able to quench my desire for a blue long haired girl (named Betty Blue) and a beautiful darker skinned (and obvious fake…I know, but stock dollies like her didn't exist) girl I named Dovima, after the legendary 50's Vogue model.
What is your favourite thing about Blythe?
Oh goodness! Where do I begin? Her eyes do it and her little body. How her personality not only changes when you change her eyes, but also in how you style her hair and dress her. I'm fondest of her original face, just because it is what I saw that made me fall in love. She's a great way to pass time and take pictures of and being a guy I love seeing people react to my having her with me. She's inspiring to make me want to be more crafty and I started crocheting because of her! I love seeing the new releases and how she has such a worldwide following. She's kind of like an old Hollywood story. She was released from her contract after lackluster success, and then relaunched herself as muse and model in a comeback Joan Crawford would be seething about. She is charming and my current boyfriend I knew was a keeper on our third date, when he met the girls and fell in love. He always wants to play with them!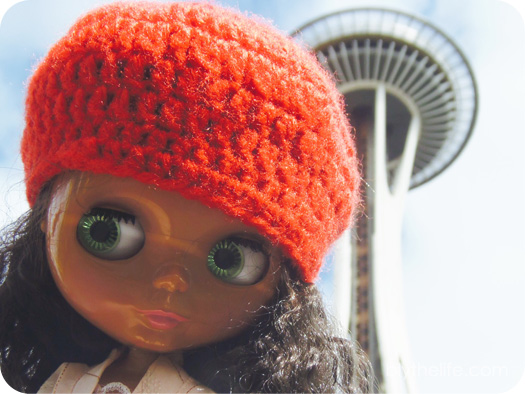 Dovima
What is your favourite aspect of the Blythe community?
I love the inspiration she gives to all the people who have been bitten by the bug. In some ways it's like a hilarious playground of make believe: the diehard Kenner only peeps, the customizers, the Takara collectors, and the collectors who buy the stock dolls along with the factory babes. It is amusing and amazing how a plastic doll has such a following of people from all walks of life the world over. All united behind a set of changing eyes. It is so much fun that just when I'm thinking that I have a weird obsession as a 40 year old man for a doll. Then I go on Instagram and online and find other people who make me feel so happy that I'm not alone and understand when I have the need for a new doll. They won't tell me I'm stupid, they tell me to go for it!
Christopher can be found on Instagram.