Written on August 24, 2016 at 12:00 pm by Michelle
Filed under:
Musings
Customs have always been something that I admire from afar. This is primarily because my dolly budget was not one for custom work when I first collecting, and later because it just seemed really expensive. My one year anniversary of starting my career is coming up (in October) and one of the things I decided that I would love to treat myself to is a custom doll by the end of the year. I have a customizer in mind, and I have a 'vision' in mind.
A tan Blythe with a pastel mohair reroot, a mix of Cool Cat or Brainworm chips and at least one set of handpainted chips. Not terribly extensive carving, and some painted eyelids. I have this vision in my head about what this doll will look like and I'm so excited about it. I've already been in contact with the customizer, just to get an idea of costs. Getting a commission done is not for the weak of heart, but I am determined to see this vision come true! One of my plans is to start actively saving and putting money aside for this dream custom of mine, because it's something that I'm making a priority.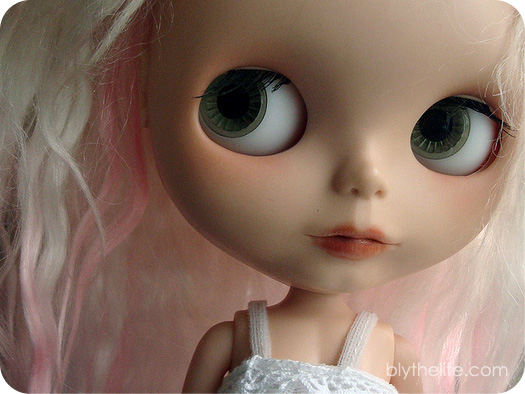 "I really don't think you need another mohair custom… Aren't I perfect enough?"
I feel like she'd wind up fitting in really well with my existing doll family, and will look fantastic next to Halo (my Friends With Blythe mohair custom). Step one (contacting the customizer) has already been ticked off, and I'm onto step two (saving up!).
What are some of your custom day dreams? Do you know who you'd want to get a custom done by? Share your custom visions below!