Written on February 3, 2017 at 2:15 pm by Michelle
Filed under:
Musings
I used to keep various parts of my life fairly separated from people I knew in "real life"/offline. The only people who knew about my dolls were members of the doll community online. But with how interconnected everything gets on the internet nowadays (mostly with Facebook), there's a trickle down effect that results in me occasionally being asked at work "So what are those dolls that you keep posting on Instagram/Facebook?". I do add coworkers to my Facebook, which then results in coworkers being added to Instagram. And for the most part I actually don't post a lot of photos of dolls anymore – it's mostly tea these days, and photos of dolls when I'm at doll meets. I've just gotten into this weird constant phase where I am active but I am not active in the doll community at the same time. Yes, I still blog here, but I don't have the motivation to take a photo of a Blythe on a daily basis.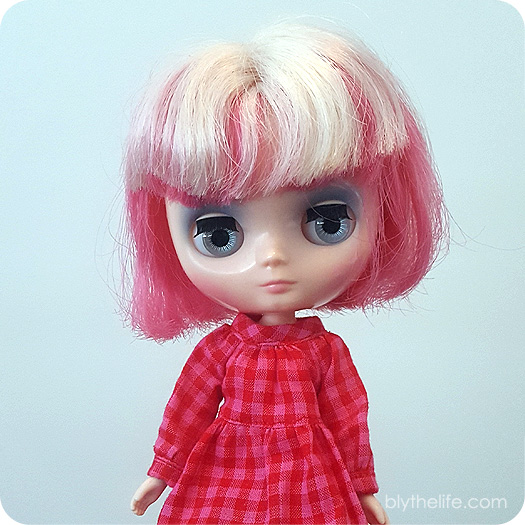 "I've been wearing the same dress for months. Is there a dolly neglect hotline?"
Is this what adulting is like? Gosh, I hope not. Also, I still need to make a pair of scrubs for my dolls, because the idea of matchy outfits with me and a doll make me smile.

And yet I still find myself explaining dolls from time to time. I generally start with the fact that Kenners existed, how they were picked up by a Japanese toy company, and the dolls have the pull string and the ability to change eye colours. Usually that earns me a confused look that reads why I did even ask or it garners me more questions that usually consist of "Do you have any more photos?". And just like a proud mama of a toddler or a fur-baby, I gleefully pull up my Instagram or Flickr and show more photos, or try to find a video I have on my phone of me clicking through the eyes.
Sometimes it goes into a conversation of "But why?" and then I just shrug and go "Why not? It's a hobby just like crafting or video games." (which, surprise! are some of my other hobbies). I ask them about their hobbies to which I get replies about baking, crafts, dance/yoga/jogging/other forms of personal torture and then I go "we all need something to keep ourselves sane when we're not at work".
How do you explain your doll hobby to the muggles in your life?
Lydia Melbourne's wearing: dress/Endangered Sissy.