Written on April 21, 2017 at 12:00 pm by Michelle
Filed under:
Featured
,
Giveaway
with tags:
Dear Girlface
I had the opportunity to interview Jessica of Dear Girlface and I'm pleased to share Jessica's beautiful customizing work with all of you! She's a vendor for the upcoming BlytheCon Brooklyn vendor this October If you're a vendor for an upcoming Blythe event, get in touch!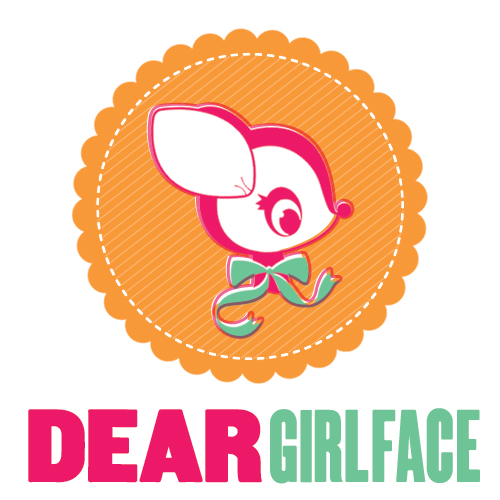 Hello Jessica, tell us about yourself!
Hi! I live in a small town in NJ right over the bridge from Philadelphia with my wife and our two tiny black chihuahuas – Elvis and Memphis. I'm originally from California but moved out here to go to art school and loved it so much I stayed! I'm a graphic designer by trade, and used to do that full time although now I work for a clothing company where my duties are a bit more spread out. Occasionally I still get the chance to design!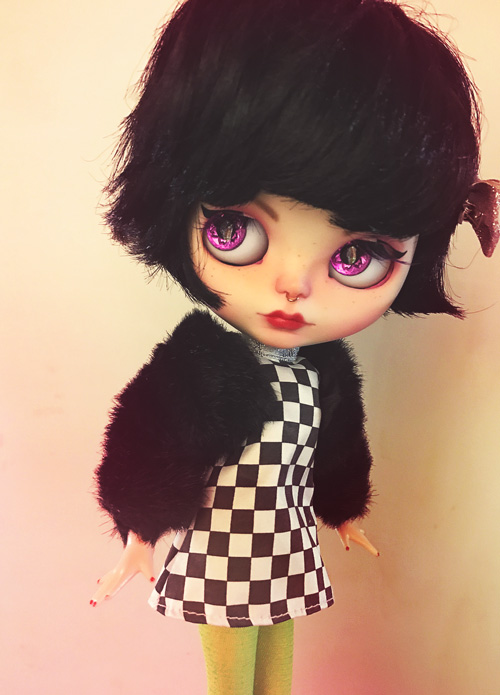 How did you discover Blythe?
A good friend of mine has an impressive collection of vintage toys and dolls and she also has quite the collection of stock Blythes. I'd be at her house and always thought how cute they were but thought "Oh, I'm not really the sort to get into dolls." How naive I was! Ha! Fast forward to many years later, I was becoming a lot more active on Instagram and had noticed Blythes popping up here and there which sent me down a rabbit hole until I eventually discovered that people we're customizing them. That changed everything! Suddenly the appeal of being able to create my own doll into whatever I wanted was very exciting. Before I knew it, I was researching them like crazy and had ordered my first TBL/factory doll, a redhead who I named Penelope.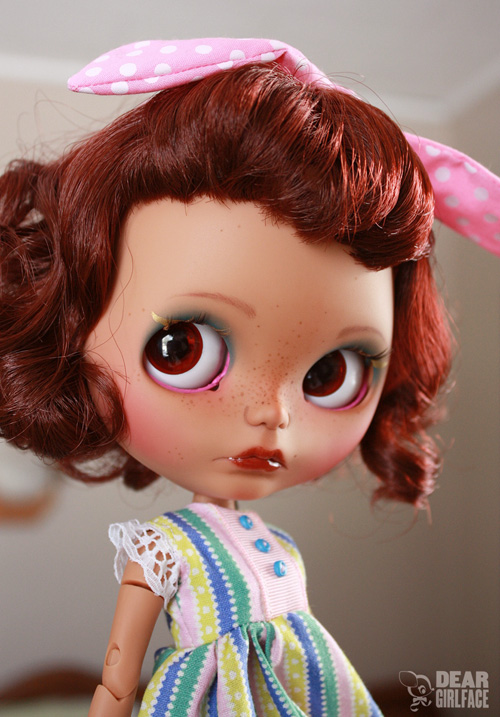 Who is in your Blythe family?
There are four TBL/factory girls that I customized myself: Penelope, Colette, Jinxie (my "mini me"), and Jupiter. Two that others customized: a Kawblam custom, Queenie Boom Boom (aka Boomie) and a Sweet Crate custom, Clementine. Then my Lounging Lovely, Millie; a Playful Raindrops/SM hybrid, Raina, and the newest girl – a UFO A Go Go named Starbuck. I also have a trio of custom LPS Blythe cuties all created by my dear friend, Denise Farinsky.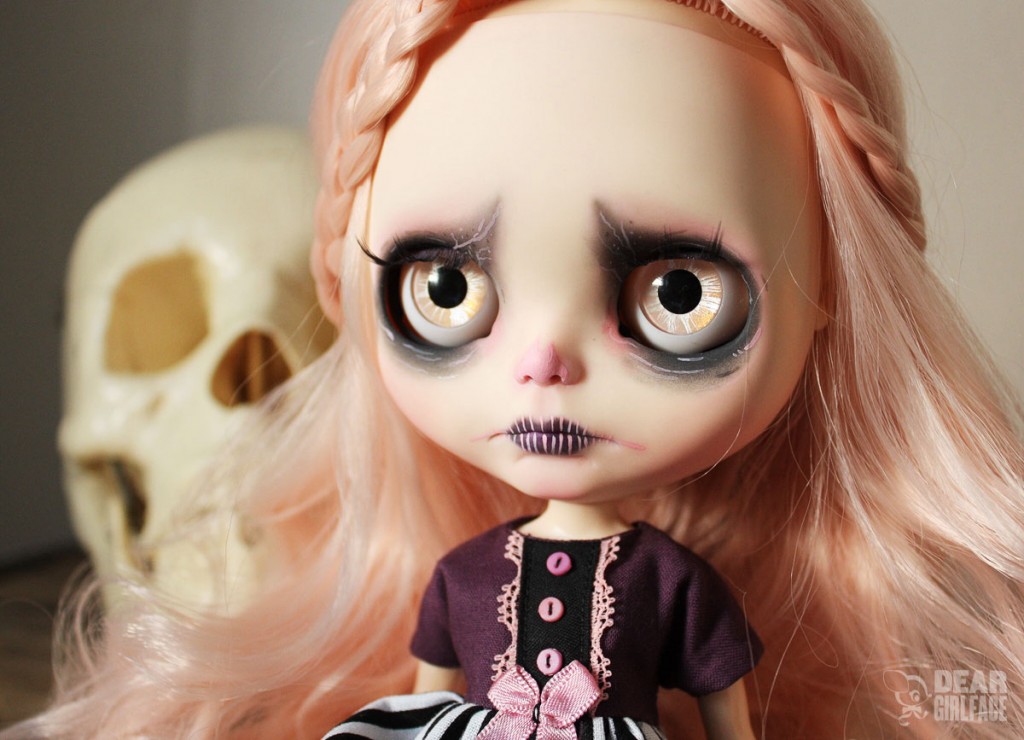 How did you get started customizing Blythe dolls?
At the time, I was out of work on disability because I was very sick with chronic lyme disease and was facing the reality that I was probably going to lose my job. I wasn't working, and even though I felt awful, I hated not having something to do creatively and was starting to go a little nuts. What I used to create were plush critters, mainly deer, and I wasn't able to make those anymore because I had a lot of pain in my hands and hand sewing was out of the question. When I stumbled across the photos of custom Blythes, I thought I'd try giving it a go. I spent weeks researching on YouTube and reading as much as I could about customizing before I even dared pick up a knife. I figured my hands wouldn't even let me do it! But once I started, I realized it wasn't bad on my hands at all and it was actually pretty relaxing. It ended up being one of the very few ways I had for getting my mind off of all the pain I was in. Customizing requires so much concentration I didn't have room for any other thoughts!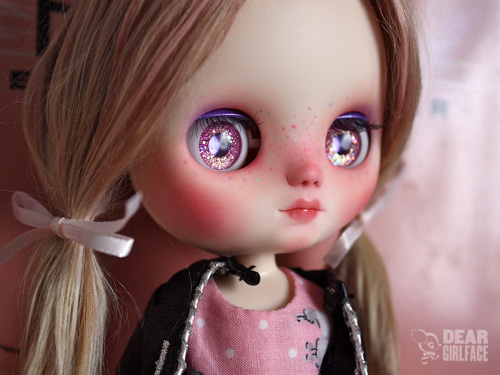 Where do you find inspiration for your custom projects?
Pretty much everywhere! In addition to swiping color palettes from things like vintage illustrations and fabrics, I look at a lot of interesting makeup artist's Instagram accounts for face-up ideas. When I first starting customizing, all I did was look at other custom Blythes, but now I find it's far more inspiring to look beyond that world for ideas. I've also recently become increasingly more fascinated with drag queens as their makeup looks are incredibly inspiring. Phi Phi O'Hara did a "365 days of drag" last year and some of the things she came up with were out of this world!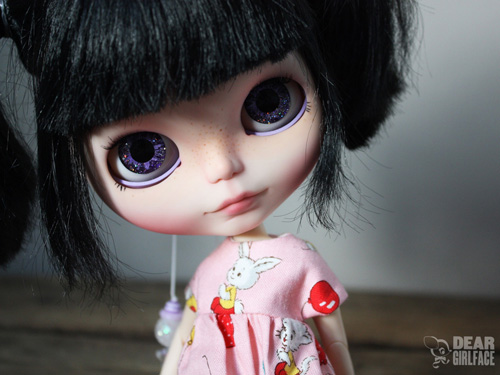 Who was your first custom Blythe that was sold? Tell us about that customization process.
Well, a dear friend of mine was more than happy to let me "practice" customizing on some dolls for her in my beginning customizing days. In exchange for her providing the doll, I would do the customization work. So the very first custom I ever did for someone other than me was for her – a black haired dark beauty named Lydia. She had some specifications as far as lid art and makeup colors but pretty much let me do my own thing. It was very nerve-wracking to have someone else's doll be at my mercy but she ended up turning out great! It's never lost on me how trusting people have to be to let me create something for them – I'm incredibly grateful to my friend and everyone else that's ever commissioned me thereafter.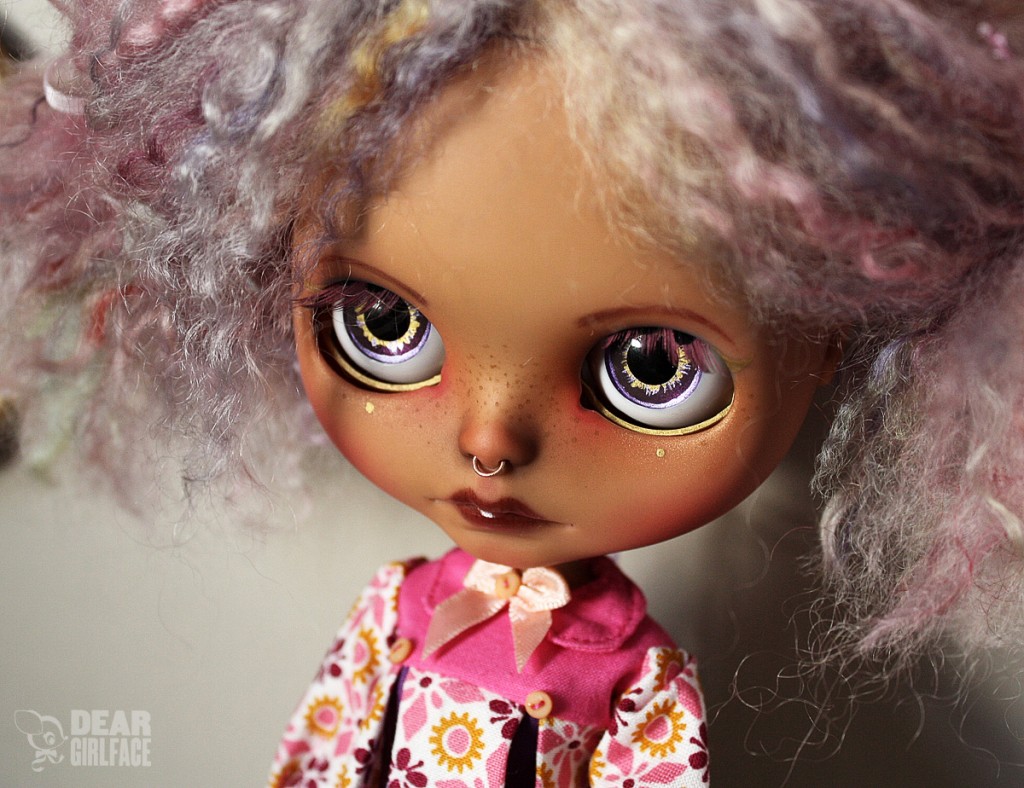 What tools could you not live without when it comes to customizing?
I'm incredibly fond of my curved x-acto blade, anything else and I feel clumsy! It's become like an extension of my hand. I also use a number of diamond needle files, and wood carving knifes. I've recently started upgrading my pastels to Pan Pastels brand and I love the intensity of the colors and their metallic and iridescent colors are fab for highlighting!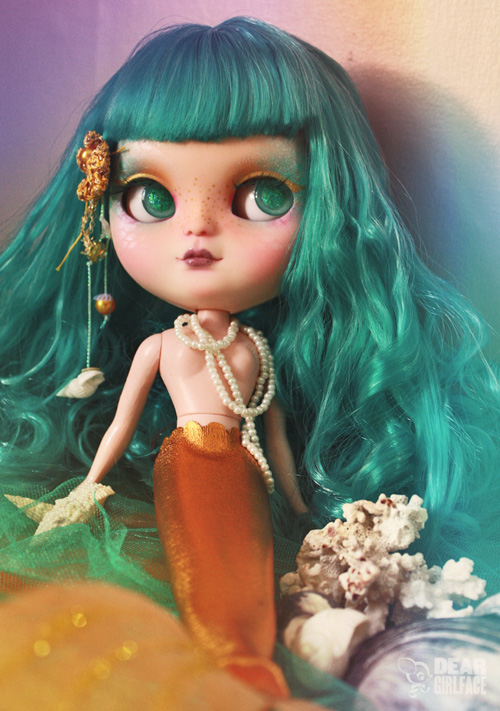 With all the doll customizers out there, what would you say sets you apart from other customizers?
Oh gosh. Well, I've always said I don't try to just make "another pretty girl" – I strive to make a doll that is truly unique. My love for all things vintage and retro comes out a lot through my dolls as well. I tend to do a lot with interesting picture eye chips and I love playing with colors and unusual palettes too.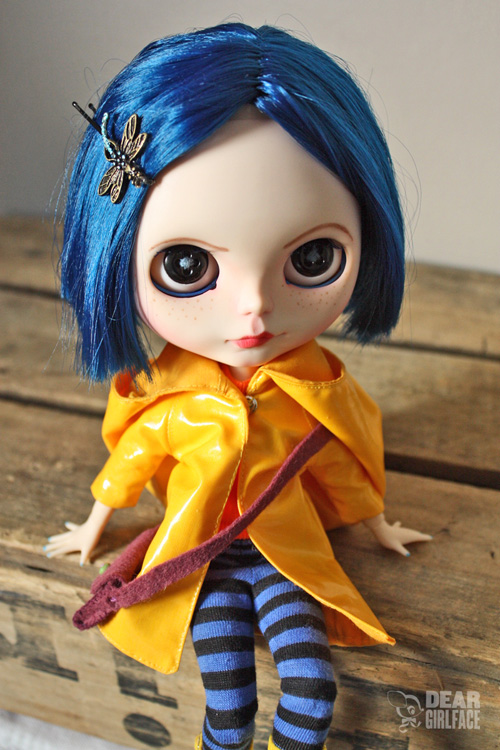 You also sew as well! What's the trickiest thing you've discovered with sewing for dolls?
Oh, it's all so different when it's so tiny! But I'd say the thing that still trips me up is collars, I've probably tried 10 different patterns for them and it never turns out as good as I want it to! It's my goal to get those conquered! I recently discovered that switching to a 1/4″ presser foot really helps a lot with tiny stitches, so that's been a welcome addition.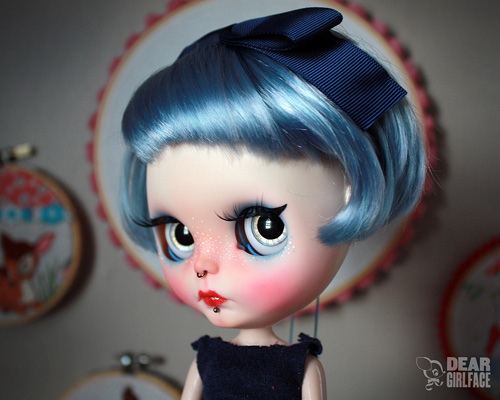 How do you think your graphic design background has helped you when it comes to customizing dolls or creating doll clothes?
Graphic design taught me a lot about use of color as well as scale and proportion, so it's surprisingly a big help. It's also given me a perfectionist complex, which is a blessing and a curse! Haha! I actually think just having a background in art school in general has helped a lot – I feel like I'm pretty good at looking at something and being about to duplicate it/figure it out. I've had some detailed requests for eyelid art before where I've doubted myself being able to pull it off…then I do it and go, oh, right! I went to art school! lol!
What has been the most exciting moment (so far!) in your customization journey?
The most exciting moment so far has to be when I sold my first custom to a complete stranger. That was incredibly validating! I'd also have to say that getting picked to vend at BlytheCon Brooklyn this year has been really exciting too!
Thanks for doing this interview with me, Jessica! What's some advice you have to give to someone who's starting off with customizing for the first time?
Thank you Michelle! My advice would be to learn and absorb as much information and technique as you can before starting for the first time. You'll have many moments of doubt and frustration, but just stick with it and practice, practice, practice!
You can learn more about Jessica and Dear Girlface on Etsy, Instagram, and Facebook.
Dear Girlface Prize Pack Giveaway!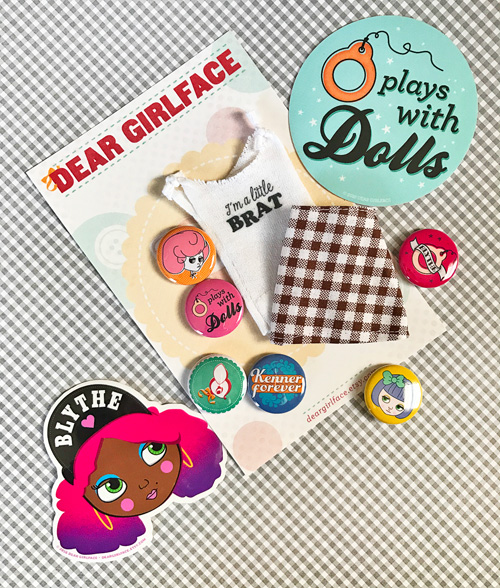 Jessica of Dear Girlface has generously decided to give away a tee and skirt set for Blythe with stickers and buttons!
The giveaway runs until Saturday April 29th 2017 at 11:59pm Pacific. The draw will be held on Sunday April 30th 2017 and the winner will be announced on BlytheLife.com. Remember to use a valid email address for all comments. The winner's name and email address will be provided to Jessica of Dear Girlface, who will be in contact with the winner.
Please only use one email address per person, those using multiple email addresses for more entries will be disqualified.