Written on May 1, 2017 at 12:00 pm by Michelle
Filed under:
Musings
with tags:
middie
,
middie monday
Happy first day of May! I'd post that Justin Timberlake meme, but I'm sure you will see that elsewhere (on Facebook… on Instagram…). It's the first Monday of the month, which means it's time for Middie Monday!
I was terribly uninspired in the month of April for all things Blythe. I'm not sure what happened there. I had some time off from work for vacation, which really just turned into a whole lot of time off from the internet in general because I spent a lot of time outside of my home doing things, and going places and making plans! Now that I'm back at work, I've had a bit of time to get back into a routine and I'm all energized again to do things with my dolls. Mostly because I have a lot of sets of eyes looking disapprovingly at me whenever I leave the house without them.
I have some projects on my knitting needles right now, but they're not done yet so I'll probably have photos available for next month's Middie Monday (this is also partially because some of those projects are for a swap – even if my Middies will get a chance to model before I ship things off). But until then, you get the following photo mostly because I think it's hilarious (and proof that I actually changed outfits on one of my dolls for the first time in forever?):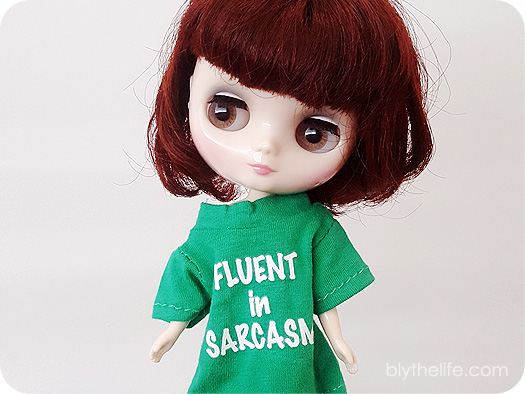 Middie Monday is a feature that is published on the first Monday of each month! A guaranteed monthly post on Blythe's little sister – Middie! If you have any suggestions for a future Middie Monday post, please send me an email or use my Suggestions form!