Written on September 24, 2012 at 12:00 pm by Michelle
Filed under:
Question of the Week
Much like Blythe herself, her accessories are also super cute. Small and dainty, they fit into the palm of your hand. If you consider shoes for Petites, they fit onto your fingertip with room to spare! I am, of course, talking about their shoes!
My Blythes have a decent-sized shoe closet. If you were to ask them, they would say that they don't have enough. There's not enough for them all to wear a similar style all at one go. And at current count, I have approximately 5.5 pairs of shoes per doll if I were to divide up the shoes evenly (and none of them are willing to wear just one shoe out of a pair). My favourites do vary from time to time, but the really simple ones that go with almost all outfits win out overall. My current favourites that go really well with most outfits are these two pairs of simple Mary Janes: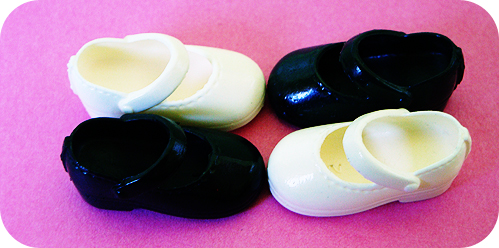 What I love about them is that they're simple. They're not 'showstoppers' that draw your gaze at first, but they go with so much and that's awesome! I love the brightly coloured shoes that I have as well, but lime green shoes don't go with all outfits, neither do yellow boots. Sometimes simple staples are the best and they're staples for a reason.
What is your favourite pair of shoes?