Written on September 23, 2013 at 12:00 pm by Michelle
Filed under:
Question of the Week
When this question gets posed to me, I know what the person is really asking is "Who's your favourite?". By definition, I should only have one favourite. Because if there was more than one, there'd still be a ranking of who is number one and who is number two. Plastic is unfortunately one of those materials that will melt in a fire, so in the event of a fire, I'd probably try to rescue all of my dolls. You know, if it was safe to do so and I wasn't putting myself in any dangerous. (Yeah right, I'd probably be the last one out clutching onto my dolls like they were some kind of life raft and somehow going to keep me alive when I walk through the flames.)
That said, whenever I get asked who my favourite is, my answer is to show people my phone. Now, my phone isn't anything particularly unique (a white Galaxy S3 in a fun lime green case), but it's the wallpaper that is the most telling part of all. As in who's featured…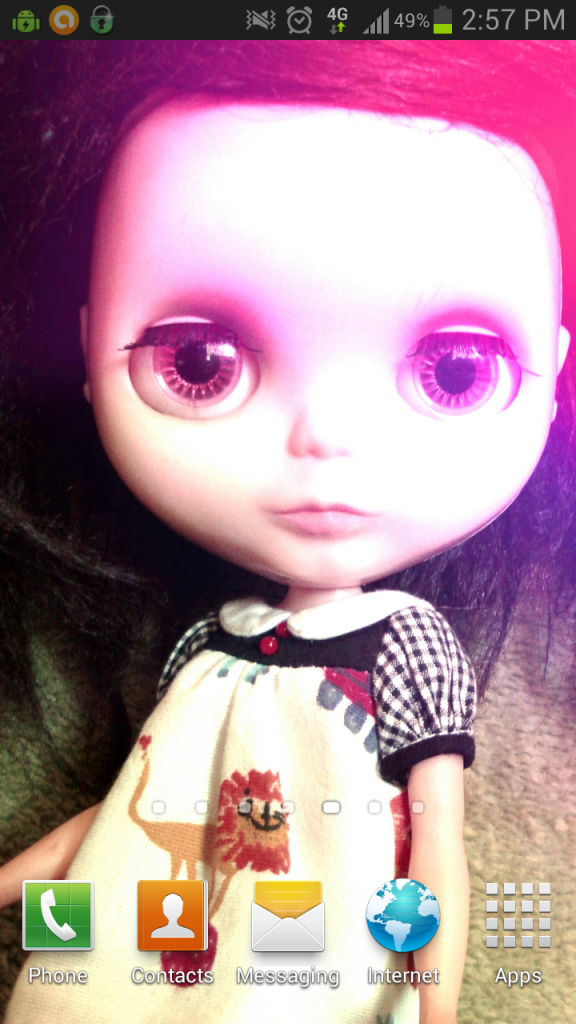 Because, let's face it, the moment I laid eyes on her Frizziest-ness, I knew that Prim had to be mine. Princess Primrose, Primrose, Prim, Prim-Prim. I'm still incredibly thankful to my friend who a) found her (and her other six sisters that make up the Vancouver Seven) and b) for allowing me to adopt her and her other sister (Miss Lillian Rose). She is, without a doubt, the 'top' favourite out of the dolls that I have and I wouldn't trade her for the world. And yes, that means rescuing her first in the event of a fire because she'd probably rise out of the ashes and beat me senseless if I left her behind and 'dispose' of whichever doll(s) I did rescue first.
Which doll would you save in a fire first?