Written on October 3, 2014 at 12:00 pm by Michelle
Filed under:
Article
with tags:
who lives here
Who Lives Here is a little feature on BlytheLife to shine the spotlight on the dolls that live with me! Here's to you, and me, getting to know my dolls a little bit better.
In this installment of Who Lives Here, I'd like to introduce you all to Belarus. Hi, Belarus!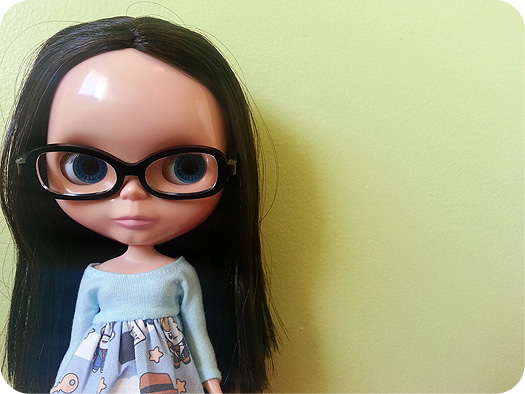 Belarus is wearing ericaduh.
Belarus has the honour of being my second Blythe, my first EBL, and one of the only dolls that I have ever bought that had a name before arriving at home. Belarus is named for the country for no other reason than the fact that I liked how it sounded.
Since the beginning, she's been the calmer of the two dolls that I had (the first being Sophie). She had to be, given that she was assaulted straight of the box for her shoes. She arrived in July 2009 and is, essentially, my mini-me. The personality that I had given her was that of a girl who loved technology – she loves video games, comic books, and she is the resident designer for BlytheLife (but she kindly allows me to have some credit as well).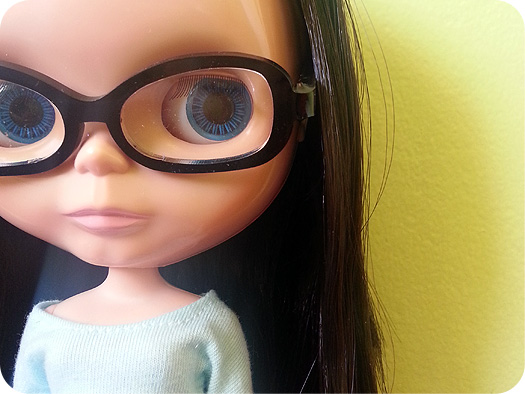 In terms of looks, she is definitely my mini-me. I too have long, straight black hair, with a centre part. The only thing that is different is that I have brown eyes and she does not. I've thought about swapping out one of her stock eyechip sets for a brown pair, but I love the EBL eyechip colours too much – especially the pinks.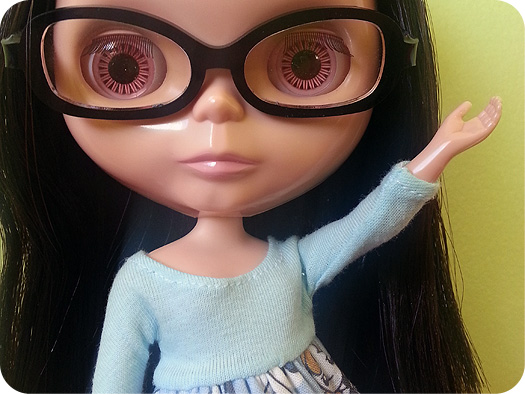 What I absolutely love about EBLs is the fact that they have wispy eyelashes, and the painted rings on their eyeballs to give their eyes a bit of depth, as well as the fact that their pinks are just so much more prettier than the standard stock pinks that you see dolls with nowadays (even though I love those ones as well). The only customization that I have done with Belarus is switching out her pullstring for a new one because her old string was fraying, so now she has a black string (and a black pullring). She still hasn't been open yet, which was a challenge all on its own.
I hope you enjoyed getting to meet Belarus!