Written on December 15, 2014 at 12:00 pm by Michelle
Filed under:
Question of the Week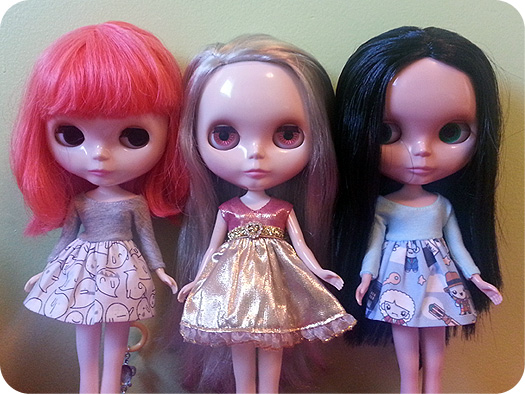 Moxie (SBB) wears ericaduh (dress); Sophie (CapChat) wears Kult of Kulta (dress); and Belarus (LM) wears ericaduh (dress).
There are a variety of stock hair cut styles available out there for Blythe:
Side-part, no bangs (or fringe)
Side-part, with bangs
Centre-part, no bangs
Centre-part, with bangs
Short, medium-length, or long hair
And then for the type of hairs:
And any creative combination of the above. I'm not going to get into the different ways that they decide to cut/style the bangs, because I don't even known how to refer to them (normal-looking vs. wonky?).
I've found that I greatly appreciate centre-part hair styles over side part, and I quite like it it with or without bangs. I find that the evenness of bangs is quite hit or miss when it comes to Takara quality these days.
What are your Blythe hairstyle preferences?