Written on March 7, 2016 at 2:00 pm by Michelle
Filed under:
Musings
with tags:
middie monday
Sometimes I look at my Middies and wonder what on earth I was thinking when I decided that introducing a new size of doll into my doll family was a great idea. This is mostly because it's hard to dress them sometimes. On occasion I wind up making them sometime, but it's almost never anything sewn because I'm bad enough at attempting to sew in straight lines for the full-sized Blythes – it's hardly going to happen for the Middies (or… the Petites). But I am always wrong with the idea that Middies aren't a great idea, because they are – they're here and they're here to stay.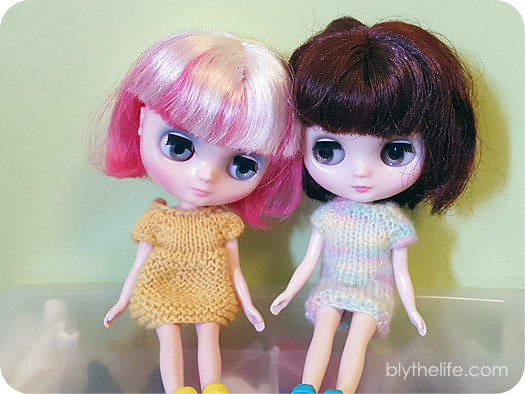 Middies have a lot of positive points going for them, if you're thinking of getting your own Middie:
They are adorable and pocket/purse friendly. Not as pocket/purse friendly as a Petite, but they're big enough that you're not likely to lose them.
They have small feet – this means that you can justify shopping for even more doll shoes because the ones that feet Blythe or Licca feet will not feel Middie-sized feet.
They have small bodies. If you knit or sew, it doesn't take that much yarn or fabric to craft something for them.
The head tilt. Super adorable, super cute, reminds me of a little kitten or puppy tilting their head while watching you eat with that "Are you sure you're going to finish that?" look.
You can dress them up as twins with their 'big' sisters. (I should never be allowed to dress real children for photo shoots, it'd be matching outfits all the time.)
Middie Monday is a feature that is published on the first Monday of each month! A guaranteed monthly post on Blythe's little sister – Middie! If you have any suggestions for a future Middie Monday post, please send me an email or use my Suggestions form!