Written on August 29, 2016 at 4:00 pm by Michelle
Filed under:
Question of the Week
It's cooled significantly over the last few days where I live – helped by the fact that it actually rained for the first time in over a month! With the cooler weather, it reminds me all too well that summer is coming to an end There's back-to-school sales on in all the big shops and it also reminds me that I am not going back to school this autumn for the second time in my life since I started kindergarten way back when. With weather and temperature changes, it's got me a little it down about the impending end of summer – so I decided to focus on some happy, upcoming things!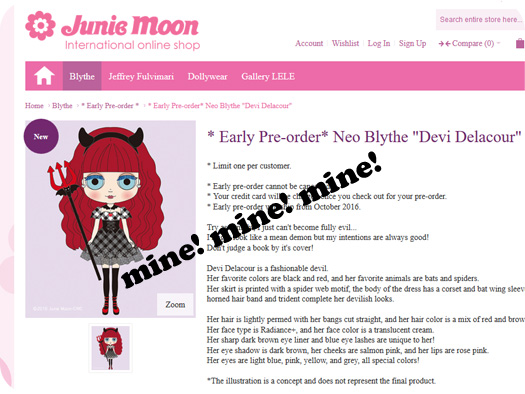 Life at the BlytheLife Headquarters has been both monotonous and exciting at the same time. There's still unpacking and organizing to do, and I do get into quite the routine when it comes to the days that I have work (wake up, go to work, work, get home, eat, sleep – rinse and repeat). On my days off, I try to pack as much as I can since I don't do much outside of eating, working, and sleeping on the days that I do work (12 hour shifts do not allow for a lot of extra activities). I did preorder a new doll – if you haven't already seen her, I preordered the October 2016 release, Devi Delacour, from Junie Moon. I'm pretty excited, she'll be my first preorder that I've gotten strictly off of an illustration and not official product photos. Gosh, I hope she turns out well! So while I've made my Blythe life slightly more exciting by ordering a new doll, I also have to wait until October to get my hands on her, which is a bit annoying. But, I digress, because there's more news to cure the end of summer blues!
BlytheLife has hit over 900 likes on the Facebook page – which is very exciting for two important reasons: because 900! and because it'll be giveaway time! I'm working on procuring the giveaway prize (prizes?? Haven't decided yet!) and will be sharing details on the giveaway and what the prize(s) will be after I get them in hand, so realistically the giveaway will happen sometime in September.
How do you cure the summer-ending blues with Blythe?