Written on March 3, 2017 at 12:00 pm by Michelle
Filed under:
Featured
with tags:
Victoria Fox
This is the first interview for the 2017 March Talent Showcase and I'm pleased to present Victoria Fox, a customizer from New York, USA! She customizes Blythe and creates hand painted eyechips for them, super neat!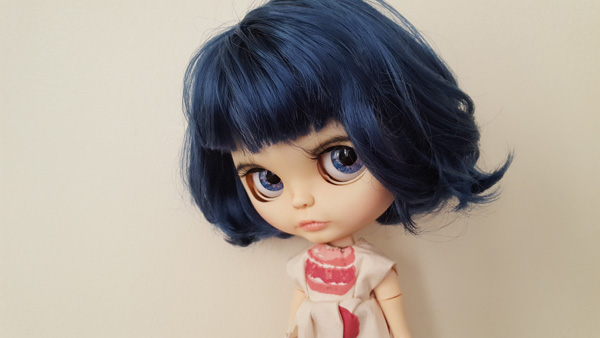 Hello Victoria! Tell us a little bit about yourself.
My name is Victoria. I am originally from Ukraine. I live in Brooklyn since 2008- that's when I moved to New York. Before moving here, I previously worked for Carnival Cruise line for many years but that's another story…
How did you discover Blythe? Who is in your Blythe family?
I discovered Blythe doll one day when I scrolling down my Instagram feed. It took a while for me to buy my first Blythe doll. The moment I saw her in real life I fell in love and my fate was sealed. That was the beginning of my journey that turned into collecting and customizing the dollies 🙂 I currently have about 11 dolls waiting to get customized, 2 that are customized and up for an adoption at my Etsy store and 2 boxed dolls that I might keep – Pow Wow Poncho and Frosty Frock.
What made you want to start customizing?
I started customizing shortly after receiving my first Blythe doll. I like how original releases look but I also love how you can bring out dolls character and charm once you customized her. I think that my dolls have a lot of sass once they go through the customization process.
Tell us about your first custom project. Who was she and who is she now?
My first custom doll was a factory doll. She had a pink hair and I named her Cotton. After she got customized, she was shortly sold on Etsy and sent to Germany. My style changed since and the dolls that I make now do not have the look of my very first and special doll.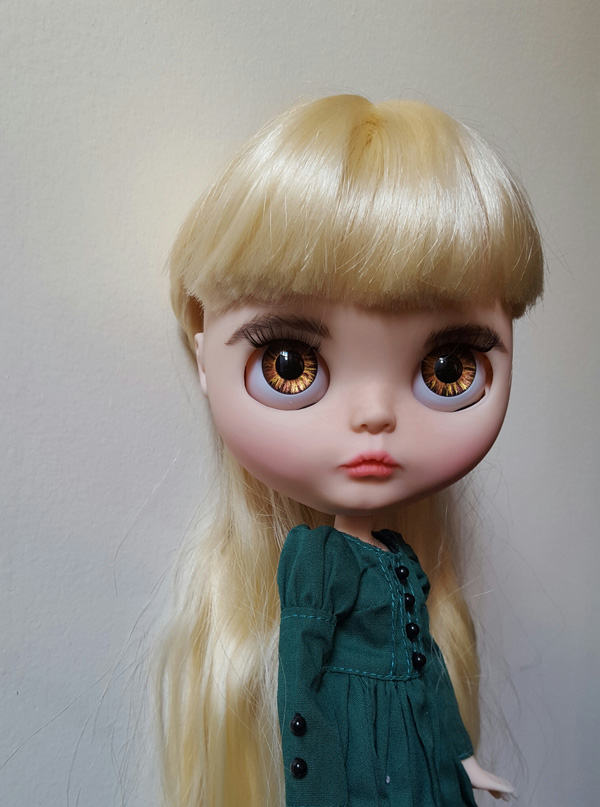 What was it like making your first sale? How did it make you feel?
I remember first time I sold my doll. I was so excited! As an artist, I always feel flattered that someone loves my doll so much that they want to buy her. It makes me feel very happy, excited and satisfied. I always ask my customers to send me the pictures of the adopted dolls to see where they are now.
Tell us a bit about your customization process from developing a concept to the finished product.
When I pick up a face plate, I have an idea of how I want to carve it; if I should have the mouth open or if I should give them teeth but it is never completely set. I like to think that the dolls have their own personalities so if I feel like I want to do something else instead while I'm carving than I go with that flow.
With so many customizers out there, what would you say sets you and your work apart from the others?
There are so many talented customizers out there who do an amazing work. I am pretty new in a Blythe community- I started in mid 2016 and still building up and establishing my customizer profile. I think all of my dolls turn out a bit pouty and I love it (maybe it's because I also pout when I carve?). I think I also bring a lot of dolls characters out.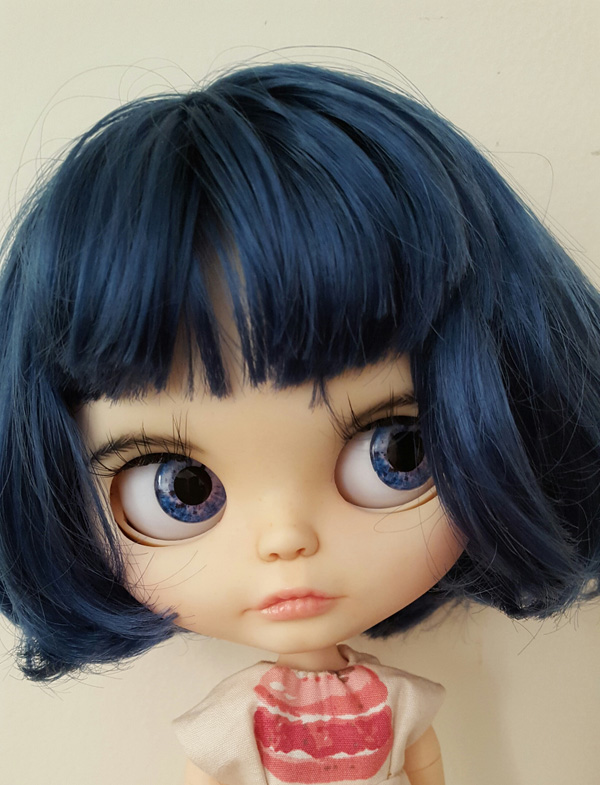 What kind of tools would you say have been indispensable in your customization work?
There are so many things that I use but when it comes to carving I would be absolutely lost if I did not have 2 of my favorite exacto knives and diamond tip heads. I break the blades quite often and constantly have to replace them.
What do you know now that you wish you had known at the beginning of your customization journey?
One important thing that I've learned is the importance of the appropriate respiratory protection when sanding, applying pastels and most importantly, spraying. I did not think much of it until one day when I read an article about it. I wish I knew that when I started with my first doll.
What do you think is one of the more challenging aspects of being a customizer?
I think that if you are a beginner it may take a while to start being recognized on the market. It may take some time to build your own audience and customers who appreciate your unique style.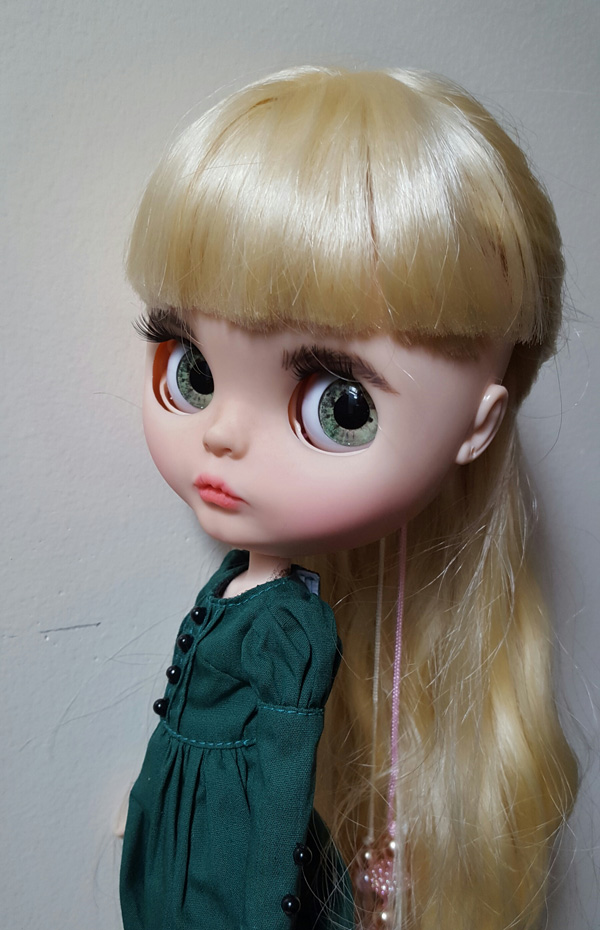 Can you tell us a bit about any in progress projects right now?
My current project is a beautiful doll that I purchased a month ago. She came with a matte face and it was a bit challenging at the beginning. I had to figure out a way to take that rubbery top coat off of her face plate… She came a long way from there and is in a final stage now- her make-up, eyes, eyelids and pull strings are complete and she just waiting on her tiny teeth to be made. After that she will be available for an adoption at my Etsy store.
What can we expect to see from you in the future?
I am constantly learning and improving my skills and will continue to make custom dolls. I am glad that I discovered this amazing hobby and can see myself continuing this journey many years from now.
Thank you so much for participating in the March Talent Showcase, Victoria! What advice do you have for someone who's thinking of starting to customize their Blythe doll?
My advice for someone who is starting would be: do your research on the techniques, find the correct tools, pastels, watch the videos from other customizers to learn as much as you can. And also, have fun with it! Do not get discouraged if the first doll does not turn out the way that you have imagined- it takes practice and will get better. I think it is also important to join groups that have people who are in the same hobby. One group that I discovered and a part of is a FB group "Blythe Customization" and I recommend it to everyone.
If you're wanting your own custom doll by Victoria, she's offering a $50 off coupon code for all purchases of $800 or greater on her Etsy shop – use VFOXMA50 at checkout.