Written on May 8, 2013 at 12:00 pm by Michelle
Filed under:
Musings
I have become quite the fan of Middies. If I had the availability of funds, I would have much more than one. For instance, I would get the mini-Zukin Middie (Nekugutsu) with her adorable cat shoes. And then there is that new one (soon to be released!) Iris Linea with her long, flowing platinum locks and blue princess dress! At times, I like to allow myself to fall into the role of the stereotypical girl and dolls is one of those areas. Especially when the doll just fits the bill and comes with some fantastic shoes and great hair colours.
A lot of people have said that Blythe, of the Neo variety, has gotten boring of late. A lot of the releases have had similar styles in terms of hair colour or cut. How many times have we seen that pink-brown mix over and over again? Or the same shoe mold being used that it just gets so repetitive? But Middie hasn't been around nearly as long so there is still so much room for improvement and growth and, for the most part, there's been little repeats in the hair colours that Middie has been given. Granted, they could have had a greater range in variety of eye colours (which would be fantastic), but I think most people are pretty happy with the variety that has been produced so far. And they make such gorgeous customs. It always amazes me how much a doll can look differently with the right person!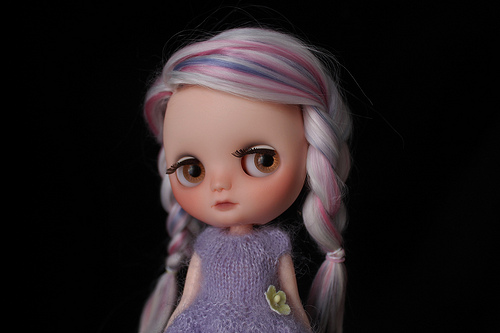 Custom Middie and photo by Kate/Moofers.
What I would personally love is for Takara to come out with a shoe pack or accessories pack for Middie. They did for the Neo in the past (shoe packs, accessories packs with glasses, outfit packs that came with a full-on outfit and one set even had a scooter), and I think it would be very fun (and would probably do very well) if they came out with more accessories for Middie. After all, if the doll is doing well and selling well, why not kick it up a notch and give the people what they want? I'd also love to see so much more in terms of hair colours, styles, and outfits! It would be nice to have more fun things for Middies – like headbands, headphones, new shoe styles and accessories that would be well-received by the community as a whole.
And if they happened to do an Alexis Emerald in Middie form? That would be wonderful.